Raheem Sterling's England call-up not too soon, says Roy Hodgson

By Phil McNulty
Chief football writer, BBC Sport
Last updated on .From the section Football69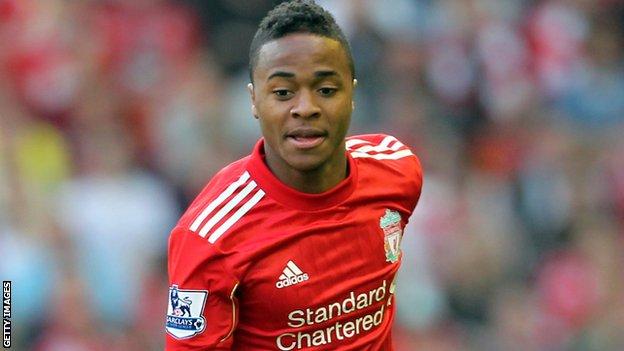 England manager Roy Hodgson says Raheem Sterling's international career will not be rushed and denied the call-up was to head off Jamaican interest.
"He mustn't think he's become part of the set-up and has made it," Hodgson said of the Liverpool teenager.
Of the Jamaica link, Hodgson added: "That's not why I've called him up."
Tottenham's Jake Livermore and Southampton's Adam Lallana were also called up to gain experience and are not in contention for starting places.
Sterling, who was born in Jamaica but moved to England as a child, was the most eye-catching selection, however, and Hodgson said: "When you bring someone in who has only burst on the scene in the last couple of games I'm causing headlines to be written.
"I've spoken to [Sterling's club manager] Brendan Rodgers at Liverpool and cleared this up with him. He's satisfied.
"I've explained the thinking behind him coming in and I'll make it clear to Raheem. He'll be pretty lucky to get close to the pitch because there were plenty of players who were chosen in front of him."
Hodgson added: "I can only hope he takes it in the right way and that it's great to be invited into the England set-up.
"He has to try, next time, to make sure he is one of the original 23. We'll be watching him before October and see whether he'll merit a place in the squad."
Hodgson also dismissed suggestions that Rodgers was worried about Sterling being fast-tracked too soon.
"I was under the impression Brendan did think he was ready for the Under-21s," he said.
"I don't think Brendan has given me the impression he didn't think he was ready. He thought it was nice for him to be soaking up the atmosphere around a big game.
"We're talking about a young and precocious talent. It has been a meteoric rise and we're all concerned we dampen expectations as much as we can.
"We'll be making it clear to Raheem 'look it's a great start, there's interest in you, but don't read too much into being here other than we're watching you.'"
Jamaica coach Theodore Whitmore hoped Sterling might consider playing for the country of his birth but Hodgson said: "I'd hope the chance to play for England is sufficiently interesting. I'm prouder of the English football shirt than to do that [select Sterling to ward off Jamaica interest].
"If Raheem decides he wants to play for Jamaica he goes with my blessing but I'd like to think he'll have the right desire to play for England because I think he's a potential English player."