Nottingham Forest: How Keith Burt helped rebuild squad
Last updated on .From the section Football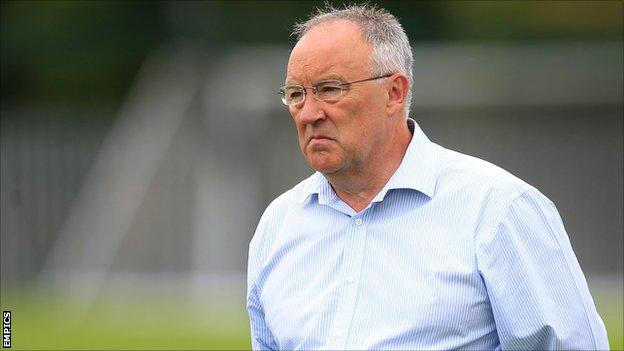 Sean O'Driscoll could barely have fielded a matchday squad at Nottingham Forest when he took over as manager from Steve Cotterill in July.
The player pool was desperately in need of numbers, with nine professionals either out of contract or at the end of their loan spells and on the way out of the club.
Among those who departed were captain Luke Chambers, Chris Gunter and Joel Lynch - three quarters of a back four - with the club's problem left-back position still unfilled.
To add to the pressure, the club had just been taken over by the Kuwait-based Al-Hasawi family and there were just four weeks until the start of the new campaign.
Thankfully for O'Driscoll, help was at hand.
Director of recruitment Keith Burt and his team have been advising the men in charge at the City Ground for the last seven years, utilising their vast library of player files to suggest potential signings.
Their hard work paved the way for 12 new arrivals on Trentside - essentially a whole new first team.
"It helped us to have our knowledge in the department this summer. We had a knowledge of who we could go and get all summer, with the hope that owners came in and backed us to go and get the players we wanted," Burt told BBC Radio Nottingham.
"We had to rely on our scouting information to go and pick up the players we did in a remarkably short space of time.
"In fairness we have to thank the owners. Every player we've put to the owners, they've put their hand in their pocket, gone out and bought them."
Patience has become a watchword for Burt in his time at Forest.
Several of the summer's newcomers to the club had been long-term targets of the Reds' scouting network, and O'Driscoll has put their advice into practice.
"Sean wants good characters here, as much as good players, so predominantly we've come back to the English market," Burt said.
"The players Sean's asked us to have scouted, like Danny Collins and Danny Ayala, Sam Hutchinson, Dan Harding; we already had good information.
"Like Simon Cox, who we tried to sign three years ago when he was at Swindon Town and lost out to West Bromwich Albion, so it's nice when you've scouted someone like we did and then he becomes available.
"It's the same with Henri Lansbury. He's a player we've tracked for four years and we were delighted to pick up a player of his class.
"It was nice we beat off Premier League clubs to sign the boy."
Burt is proud of the groundwork that goes into a signing, eschewing outside influences to personally unearth talent.
"In my seven years here we've never signed a player from an agent's recommendation, or from a DVD of his playing. All the players have been scouted properly," he said.
"When the season ends it doesn't end for people like myself. We have a two-week holiday but I always spend time at the smaller tournaments in France.
"We hope we don't miss out on too much, there's always someone you wish you could have got in."
Although now back in the Championship and with hopes of mounting a promotion bid, Forest's slip down the leagues in the last decade threw up its own challenges.
Gone were the days of multi-million pound signings such Stan Collymore, Pierre van Hooijdonk and David Johnson, as relegation to the third tier prompted a different approach.
" [now with Reading in the Premier League - signed from non-league Bromley in January 2008] was a good case. We were in League One at the time and we had to look at players from the lower reaches," added Burt.
"Chris Cohen was one we looked at 10 or 11 times, predominantly at West Ham and then Yeovil, and when he became available, and into our reaches with the money, we had to act quickly.
"Look at what a servant he has become for the club."
Burt's role at Forest has grown from chief scout, recommending players in the traditional sense, to the ill-fated acquisition group so heavily criticised by former manager Billy Davies, and now on to his current post as director of recruitment.
"I do everything from start to finish, meet the agents, agree the fees with clubs and try to agree the best value for Nottingham Forest," Burt said.
"That can go on for days, but as in everything it tends to be weeks. If we're connected to a player or touted for that player, that's probably been going on for a long while.
"There's more people involved now with every transfer. Years ago you could ring a club up and it would be done over 48 hours, but now it's a matter of days and weeks."
Football may have changed since he began his work, but Burt remains just as enthusiastic about the unearthing of talent for the Forest cause as he was when he arrived at the club in 2005.
BBC Sport will be taking a closer look at stories from outside the Premier League before every weekend league programme in our Football League Friday features.