Manchester City aim to prove Champions League credentials
Last updated on .From the section Football240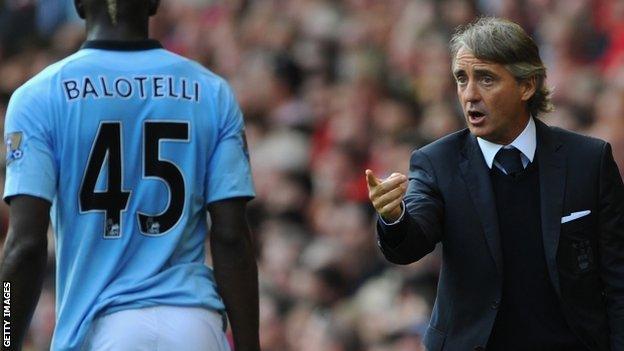 Nobody said it would be easy.
But the task facing Manchester City in this season's Champions League could hardly be more daunting.
The champions of England have been drawn against the champions of Spain (Real Madrid), the champions of the Netherlands (Ajax) and the champions of Germany (Borussia Dortmund).
Depending on to whom you listen, this is either a nightmare draw or the stuff of dreams, a "group of death" or the ultimate opportunity for City to finally announce their presence at Europe's top table.
"Games like this are why you are in the Champions League," City captain Vincent Kompany said ahead of their trip to Real Madrid on Tuesday.
'It's a great challenge. I think we are the sort of team which gets better as the challenges get even greater. It's perfect for us.
"There won't be any moments where we will be surprised. The motivation will be sky-high, the atmosphere great. I couldn't think of a better way to play the Champions League. It's all about how far you can get but it's even nicer when you play against the best teams.
"I thought it couldn't get more difficult than last year but there you go."
Last season Roberto Mancini's team failed to progress to the knock-out stage from a group containing Bayern Munich, Napoli and Villarreal.
Mistakes were made, but lessons have been learned. What surprised Mancini and his players more than anything was the speed with which City were punished for their mistakes. But they are a different proposition these days.
The Premier League title has brought with it a sense of belonging and a confidence that will make City a far tougher proposition.
Indeed, it was City's presence, as much as that of Dortmund and Ajax, that prompted forward Cristiano Ronaldo to suggest his Real Madrid team had been drawn in "the most difficult and most competitive" group.
"In my opinion, and I am sure the opinion of most people, it is the most difficult group and the most competitive," Ronaldo said.
"But we are ready. We are champions of Spain and we are ready to compete with anybody. In my opinion the best teams in the world are there in Spain, in Real Madrid and Barcelona."
And there is the challenge for City. The feeling remains that the two Spanish superpowers still have the rest of the continent at arm's length despite neither reaching last season's final. Mancini believes City are as well-placed as any to bridge the gap.
"There are other teams better than us," said Mancini.
"But for us this is the second time and I always thought the Champions League is a strange animal. If you are lucky, even if you don't have the best team, you can end up in the final. It is a really strange competition. It is important to reach the second stage. After that, anything can happen."
City will need to hit the ground running at the Bernabeu on Tuesday. This baptism of fire will provide City and the rest of us with a yardstick for just how far the club have come in four years since Sheikh Mansour's takeover, and perhaps how much farther they still have to go.
Real start as favourites to top the group but they are understandably wary. "City are a very strong team after an enormous investment and they will be a rival of the highest level,'' said Real director Emilio Butragueno.
Mancini knows his backline must rediscover the defensive obduracy that formed the bedrock of last season's title-winning heroics, while Carlos Tevez will need to make headlines for all the right reasons during the group stages of this season's Champions League if City are to progress to the knockout stages.
As a club, City are relative newcomers to the competition but with the likes of Kompany, David Silva and Maicon, Mancini boasts plenty of European know-how. City will not suffer stage fright.
There will be added motivation for their Italian manager as he pits his wits against Real coach Jose Mourinho, whose name has cropped up in conversations in the City boardroom during the Mansour era.
"It will be an exciting match, a good match, between Jose and Mancini," said City executive and former player Patrick Vieira.
"Wherever Jose has been, he has been successful. The Premier League does not hold any secrets for Jose. He follows the Premier League 100%."
It would be foolhardy to see Group D as simply a two-horse race. City will not make that mistake.
Ajax may be a shadow of the side that lifted the European Cup in 1995, but last season they were good enough to leave the red half of Manchester with a bloody nose at Old Trafford, while Jurgen Klopp's Borussia Dortmund have won the German title for the past two seasons with considerable panache.
But Real are the most formidable of opponents. In winning La Liga last season, finishing nine points ahead of a Barcelona side considered one of the best to play the game, they scored 121 goals, amassing 100 points.
In Ronaldo they boast one of the world's two outstanding footballers who has the ability and appetite to score goals from anywhere and at any moment. As a former Manchester United player, he will need no added motivation to shine against his old noisy neighbours.
On his last visit to Etihad Stadium in November 2008, he was sent off for two bookable offences as United won 1-0.
Four years on, City have an opportunity to show Ronaldo and the rest of Europe just how far they have come.