Tom Cleverley given reality check on night of frustration for England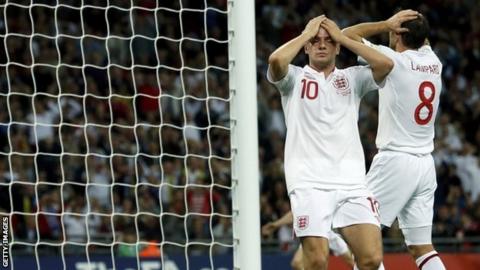 This was not a night that will live long in Tom Cleverley's memory.
At Wembley on Tuesday, Ukraine gave English football a short, sharp, reality check and in doing so handed the Manchester United playmaker a timely reminder that he still has some way to go before he can be compared to the very best in Europe.
His performance against a woeful Moldova side on Friday prompted Roy Hodgson to compare him with Barcelona's Cesc Fabregas, while others proclaimed a new era in which Cleverley would provide the answers to England's longstanding lack of creativity at the apex of the midfield.
But against Ukraine, we were reminded that against a team of genuine international class, the arrival of Cleverley as a international player remains a theory, rather than a reality. Having been given the freedom of Chisinau on Friday, Cleverley was shackled by the disciplined obduracy of Anatoly Timoschuk during a chastening 61 minutes at Wembley.
After England's 5-0 victory in Moldova, Hodgson said: "Tom Cleverley, I suppose you could say, is an attacking midfield player but he's an attacking midfield player in the same way Cesc Fabregas is."
As his number was held up after an hour at Wembley that looked a bold claim.
At 23, it remains unclear just what Cleverley is going to become or how good he is going to be at it. At the same age, Fabregas was a World Cup and European Championship winner, a veteran of more than 260 games for Arsenal and a player of genuine standing in world football.
Cleverley has started only eight Premier League games for Manchester United and has yet to score. This was his first competitive start for England at Wembley and it showed. "The comparisons with Cesc Fabregas were extremely premature," Mark Lawrenson told BBC Radio 5 Live.
"There is no doubt that he is a talented player and he may well blossom into someone who can dictate games for England. But not yet."
Three times during a frustrating first half, Cleverley used his nimble feet and willingness to get the ball moving quickly to create openings he was ultimately unable to take. The most glaring of them was an opportunity he would have taken nine times out of 10 as he fired Jermain Defoe's clever header straight at Ukraine goalkeeper Andriy Pyatov from four yards with the goal apparently at his mercy.
Cleverley might have done better when he scuffed a shot well wide, before striking the outside of the post with half-time approaching. Questions remain over his suitability in the No 10 role, given his traditional upbringing as a more disciplined midfielder.
"He is a good young player, but people went over the top on the back of his performance in Moldova and I thought Roy Hodgson was misplaced when he suggested he was a natural number 10 and made comparisons with Fabregas," BBC Radio 5 Live's Alan Green said.
"Many people were too enthusiastic about what happened in Moldova. Three points and five goals against a pub team. This was international football."
Hodgson's belief that Cleverley can restore fluidity to the England midfield should not be dismissed on the basis of one performance, of course, but this was a timely warning of the dangers of pinning your hopes on a player who has not yet firmly secured his place at Old Trafford.
Against Moldova, Frank Lampard and Steven Gerrard linked delightfully with Cleverley and freed themselves to get forward. Defoe was also able to run into wide open spaces, knowing his young midfield colleague might find him with a through ball.
But during this 1-1 draw, the space was shut down and those lines of communications disrupted.
Cleverley was far from alone at Wembley. Neither Lampard nor Gerrard, who was sent off for a second bookable offence with five minutes remaining, found their rhythm as the tremendous Yevhen Konoplyanka delivered a masterful performance to dictate in midfield.
Defoe and Alex Oxlade-Chamberlain failed to spark, while much of James Milner's best work was spent facing his own goal. Joleon Lescott was culpable for the Ukraine goal, giving up possession all too easily, while Ukraine's movement in the final third left England continually exposed.
England's younger generation are talented and hungry. But here was the reminder to all, that the fledglings will, understandably, take time to come to the boil.
Manchester United boss Sir Alex Ferguson has high hopes for Cleverley, Hodgson too. But perhaps, like the rest of us, we must go on a journey of discovery to find out whether he will become the player who can impose himself on the biggest games of them all.