Barry Horne encourages stuttering Wales after Serbia humbling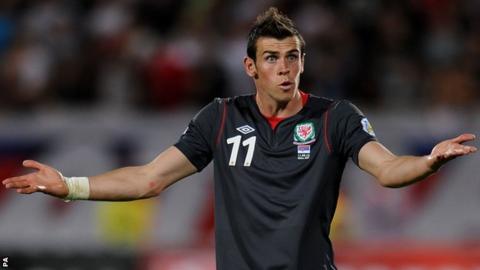 Former Wales captain Barry Horne says the current side are capable of bouncing back from defeats in their opening two 2014 World Cup qualifiers.
Wales lost 2-0 to Belgium in Cardiff on Friday then 6-1 in Serbia on Tuesday.
Ex-Everton midfielder Horne led a Wales side that was crushed 5-1 in Romania in 1992 at the start of their 1994 World Cup qualifying campaign.
"That was one of my first games as captain and we were 5-0 down at half-time," Horne said.
"We won the second half 1-0 which was no great victory but we did - we got out of Bucharest as quickly as we could and we forgot about it, or we tried to forget about it."
Horne's vintage, coached by Terry Yorath, recovered from their early shock and improved to almost clinch a place at USA '94, only denied in the final group game when they lost 2-1 to Romania in Cardiff.
"Terry changed the way that we played, we got a victory, we got another victory and all of a sudden our self-belief was on the rise and we went on picking up good results and sometimes that's all you need - a result to give yourself a bit of confidence and build on that," Horne said.
"There was a change of tactics from the manager which worked, suited the players that we had and we stuck together - that was the most important thing about that group of lads, we were tight and close.
"It was us against the world in many respects. We had no money, the training facilities were rubbish, the kit was rubbish. Everything about us, in terms of what we were provided with, was rubbish and we turned that into a positive."
Horne admits the hammering at the hands of Serbia had been hard to take, especially as it was so unexpected from a side that had laboured to a 0-0 draw in Scotland in their opening qualifier and had scored three goals in their previous nine games.
"I felt physically sick... I don't mean that in a way of criticising anybody, I just felt so gutted for Chris [Wales manager Coleman] and the players, and all the Welsh fans who travelled," Horne added.
"It was almost like a 'perfect storm' in many ways. You've got a team who have failed to score in many of their previous games, they've got a new coach [Sinisa Mihajlovic] who quite clearly in his first four games has been experimenting.
"He himself was under a little bit of pressure at home because the fans feel he has been messing around with the team. He's brought all these youngsters in.
"They came into the game with little form so we all had high hopes, I certainly did. They were no great shakes in Scotland and I thought it was a game we could get ourselves going.
"There were a series of errors, individual mistakes from players that you couldn't legislate for, and almost every one of them was punished ruthlessly by a team that previously couldn't hit the back of the net.
"We got back into it at 2-1, we started quite brightly and then the wheels came off big style.
"I don't like apportioning blame quite so readily but the blame has to be shared out I'm afraid.
"Our world-class players, our best players have to take a little bit of that on their shoulders I'm afraid."
However, Horne says there are some extenuating circumstances as Wales were significantly understrength because of injuries and illness.
"Chris has had his fair share of bad luck with people pulling out for one reason or another," Horne said.
"Obviously Neil Taylor was a shocker, a really bad injury at a crucial time for him, his club, his career and Wales.
"[Goalkeeper Wayne] Hennessey is out injured - not that I'm suggesting Boaz Myhill could be blamed for the defeat - [striker Craig] Bellamy has pulled out, [midfielder] Joe Allen wasn't playing on Friday and I'm guessing he was suffering the effects of that virus [against Serbia]. So they're key players.
"You have to say that Wales are... much better with Craig Bellamy in the team, they are much better with Craig Bellamy and Neil Taylor linking up down the left."
In qualifying rounds three and four, Wales face Scotland at Cardiff City Stadium on 12 October and four days later travel to Croatia.
Scotland followed up their opening draw against Serbia with another point in a 1-1 finish against Macedonia.
Croatia's clash with fellow Group A favourites Belgium also ended 1-1.