Billy Ayre: Blackpool to honour promotion-winning boss
Last updated on .From the section Football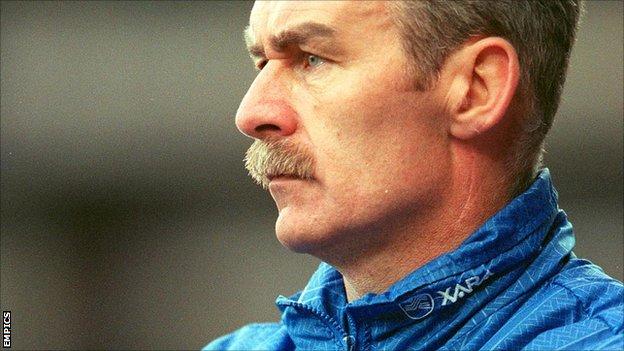 Blackpool will honour their former manager Billy Ayre by holding a special tribute evening at Bloomfield Road.
Ayre, who led the Seasiders to promotion from the fourth tier via the play-offs in 1992, died in 2002 aged 49 after a battle with cancer.
The event on Friday, 5 October, organised by the Blackpool Supporters' Association, will see a specially-commissioned painting of Ayre unveiled by members of his family, while several of the promotion-winning team are expected to be present.
Here, friends and colleagues share their memories of Billy Ayre.
THE SUPPORTER
Glenn Bowley, chairman of Blackpool Supporters' Association:
"Billy is always fondly remembered by Blackpool fans.
"The passion he showed towards the fans at home games was great. He used to run up and down the touchline clenching his fist and really got the crowd going.
"He was an inspirational manager for supporters and we had success under him.
"It seemed like the right thing to do to make sure we can remember his achievements and what he contributed to the football club."
THE PLAYERS
Dave Bamber, former Blackpool striker:
"I signed for Graham Carr on the Thursday and got on the coach to go down to Hereford to find out that he'd been sacked. Nobody seemed to know what was going on.
"Billy got on the coach further down the M6, so we started together and we finished together because I didn't play many games after he left because of injury.
"We won lots of games, we got promoted and I would never swap those three or four years for anything else."
David Eyres, former Blackpool midfielder:
"Without doubt, he was one of the best managers I've ever played under.
"He was like a dad to me and all of the other lads.
"He was down to earth and you knew that if you stepped out of line, he'd let you know about it.
"If you couldn't play football after one of his team talks, you shouldn't have been there. He made you feel a million dollars.
"When you came off the pitch, you just felt special. We would run through a brick wall for him and I think that showed in the games. He was a special bloke and is really sadly missed."
THE FAMILY
David Ayre, Billy's son:
"Blackpool was a place that was really close to his heart. The fans really took to him and he took to them as a result.
"It's overwhelming to be honest. The fact that everyone holds him in such high regard, even 20 years on, is testament to him as a man and as a manager.
"I just feel really proud to be associated with the club in any way I can. It's an absolute privilege to be involved in this night and I wouldn't miss it for the world."
Interviews with BBC Radio Lancashire's Andy Bayes.