Northampton keen to extend Danny East & Lee Nicholls loans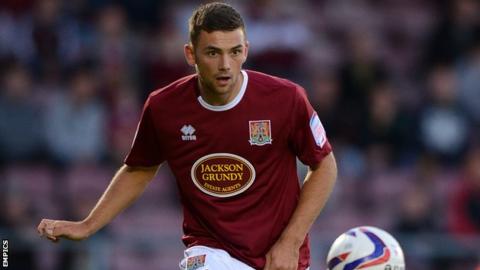 Northampton Town boss Aidy Boothroyd is hoping to extend the loan deals of Hull City midfielder Danny East and Wigan goalkeeper Lee Nicholls.
East, 20, is at Sixfields until the end of the month, while Nicholls, 19, is currently due to stay until 31 October.
Boothroyd told BBC Radio Northampton: "I've got nothing but good things to say about both of them.
"I'll have to have conversations with both managers and see if we can extend both loans."
Nicholls has made six appearances for the Cobblers since joining the club, but will soon face competition for his place with Shane Higgs almost back to full fitness, while East has played four games so far.
Boothroyd continued: "Like with any loan signing, they're here to improve their game and hopefully everybody wins out of it.
"They've done very well and improved the team, and that's all you can ask."
Asked about the likelihood of extensions being approved by Hull and Wigan, he replied: "I won't know that till I ask the question."