Chris Coleman must learn from 'mistakes' says FAW chief
Last updated on .From the section Wales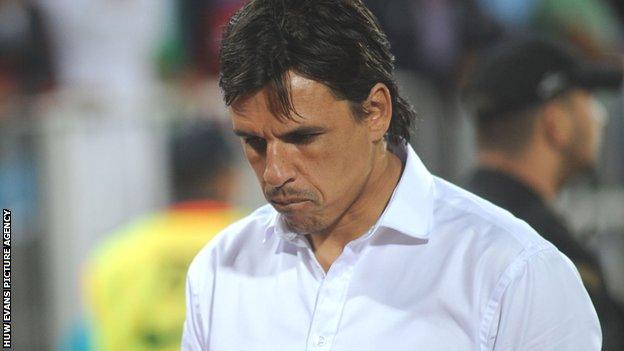 Wales manager Chris Coleman has been urged by the Football Association of Wales to learn from the "mistakes" in response to the 6-1 shock in Serbia.
Jonathan Ford, the FAW chief executive, says Coleman will make changes for the "must win" World Cup qualifiers against Scotland and Croatia in October.
Ford stressed Coleman has the FAW's "full backing" but admitted the display in Serbia was not good enough.
"Nobody would say we weren't disappointed with that," said Ford.
"The players will say that, the manager will say that, the fans will say that.
"Of course we want to take every opportunity to learn from our mistakes, to understand what went wrong, to understand what we need to do to put it right.
"I've got every faith in Chris Coleman to make sure he will recognise those things he needs to do to make sure we have every best chance going forward."
The heavy defeat in Serbia, which "embarrassed" Coleman, followed a 2-0 home loss to Belgium in their opening 2014 World Cup qualifier.
Ford said the damage of two opening defeats had been lessened by the fact that no Group A team had won both opening games, leaving Wales four points behind joint leaders Belgium, Croatia and Serbia.
But he said nothing short than six points in the double-header at home to Scotland on 12 October and away to Croatia four days later will do.
"We must win the next couple of matches," said Ford. "Croatia is going to be very hard.
"Scotland, of course, is the key one and let's wish Chris all the very best.
"He's obviously had to do a bit of thinking over the last few days. I'm sure he's going to make a couple of changes going forward, but ultimately we are a very short way into the qualification."
Wales have now lost five successive games since Coleman's appointment in January as Gary Speed's successor.
Many supporters have already turned against Coleman, although former internationals Kevin Ratcliffe, Robbie Savage and Mark Bowen offered a staunch defence and blamed the players for failing the manager.
Midfielder Joe Allen said Coleman had done "everything a manager can do in terms of preparation" and Ford is confident his man will come good.
"Chris is only four games in, he's only two games into the qualification. He's got our full backing," Ford said.
"Chris is a very good manager. He's been very successful in the past. I'm hoping he'll be very successful for us here in Wales, too."