Akono wants Eto'o to return to Cameroon team as captain
By Leocadia Bongben
BBC Sport, Yaounde
Last updated on .From the section Football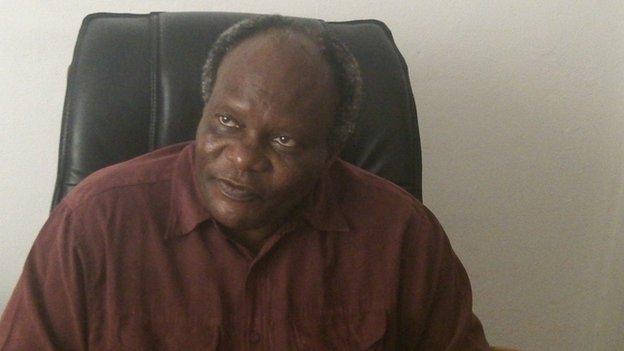 New Cameroon coach Jean Paul Akono wants Samuel Eto'o to captain the team when he returns from a self-imposed exile.
The 31-year-old striker refused to play in the Indomitable Lions' recent 2013 Africa Cup of Nations first-leg, final-round qualifier defeat by Cape Verde.
Eto'o had been available after this eight-month international ban ended but he insisted his return was "on hold" in order to draw attention to the "amateurish and poorly organised" national team set-up.
However, since the 2-0 defeat by Cape Verde on 8 September, Cameroon have sacked coach Denis Lavagne and installed Akono as his replacement - and the new man has followed up his plea for Eto'o to return by stating his plans to reinstate him as captain.
"The captain has to be someone who is always in the field, always in top form and I think Samuel Eto'o embodies these qualities," Akono told BBC Sport.
"I will talk it out with the captains that were selected recently."
Prior to the match against Cape Verde, Nicloas Nkoulou was selected as captain with Idriss Carlos Kameni and Alexandre Song as assistants.
Akono is eager to avoid the ill feeling in the squad that arose when former coach Paul Marie Le Guen stripped Rigobert Song Bahang of the captaincy in favour of Eto'o in 2010.
His philosophy is simple.
"Naturally the captain should be the eldest player of the team," he said. "For the time I shall be the coach, the captain would always be the preserve of the eldest.
"Problems cropped up because this logic was ignored to create other problems."
Akono is set to meet Eto'o in the coming days, and although he has yet to have contacted the four-time African Player of the Year he is confident that the Anzhi Makhachkala striker will return.
"There are certain highly placed personalities, friends who are in regular contact with the skipper. I think today he is in a good disposition to come back to the national team, especially after the 2-0 defeat by Cape Verde," added Akono.
"This is why I want to see him, to confirm my confidence, to tell him that Cameroon needs him, and that he has to answer Cameroon's call."
Cameroon are in danger of failing to qualifying for the Nations Cup for the second consecutive time, having missed out on the last tournament in Equatorial Guinea and Gabon.
It is a situation that the country's authorities are desperate to avoid and Cameroon President Paul Biya has met with Eto'o to ensure the player's return is imminent.
The President also gave firm instructions to Akono after his appointment.
Cameroon play the return leg against Cape Verde on 13 October.