Owen Coyle understands why pressure is on Bolton
Last updated on .From the section Football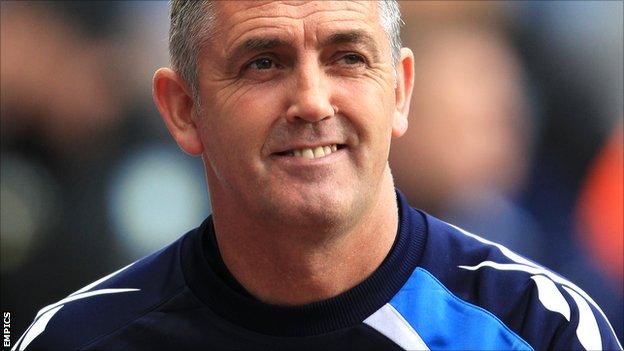 Owen Coyle says he can understand why there is so much expectation on Bolton in the Championship this season.
"You're expected to win nearly every game you undertake, and with our quality of squad, we're demanding that as well," he told BBC Radio Manchester.
"And for teams coming to a magnificent stadium, Bolton are always going to be perceived to be a big scalp."
Coyle continued: "We all want the same prize for Bolton Wanderers. Everybody wants to be sitting top of the league and the time to make sure we're there is after the final game of the season. That's our aim."
Matt Mills and captain Kevin Davies scored first-half goals to give Bolton a two-goal lead against the Hornets.
The hosts managed to hold on to all three points, although Coyle admitted there were some nervy moments following what he described as a "fluke" goal from defender Lloyd Doyley.
"Sometimes the players, when we're 2-0 up, will sit and hold what we've got," added the Scot.
"We're a team that has to keep pushing forward to get a third and fourth goal because we're at our best when we do that.
"We allowed Watford to come onto us and it was the biggest fluke goal you've ever seen in your life.
"What happened then was we got a little bit nervous and the fans got nervous, but we could have finished with five or six goals very easily."