Manager John Ward expects Colchester to bounce back
Last updated on .From the section Football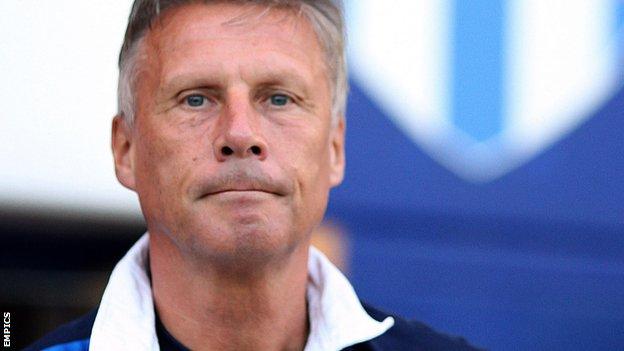 Defiant Colchester boss John Ward has backed his players to "tough it out" after a home defeat by Doncaster left them bottom of the League One table.
They have only taken three points from the first six games of the new season.
"You can walk away from it, run away or hide away from it, or boo, or cheer or shout," Ward told BBC Essex.
"The tough thing is to stand up and fight and believe in what you're doing, and we've got a group of players that will do that."
The 61-year-old has been in charge of the club since May 2010 and led them to 10th place in each of the last two seasons.
He recruited strikers Freddie Sears and Clinton Morrison over the summer, but the team has only scored four times in six games - and has yet to find the net away from home.
Asked about how he would address the run of poor results, he replied: "I'll have my head high and I'll be talking to the players in exactly the same way and I'll try not to be as despondent as you are.
"I'll look at the fact where we've had 16 shots (against Doncaster) and they've had 10. We've had 24 crosses and they've had 12, I think that's quite positive and I'll stick with that and work with the team."
Ward insisted his side had been "unfortunate" in some of the games and that he was satisfied with the overall level of performance, except for the the 4-0 defeat at Tranmere at the beginning of the month.
"If we maintain the spirit of the team against Doncaster, the spirit of the team last Saturday and what we've shown in pretty much all the games, apart from that second half at Tranmere, then we give ourselves the best chance of coming back into matches and starting to win again," he said.
"It's easy to support a winning team or be with a winning group, whether you're a player, a supporter or a manager like myself.
"The hard bit is toughing it out when things are difficult."