Peter Crouch still wants to play for England
Last updated on .From the section Football158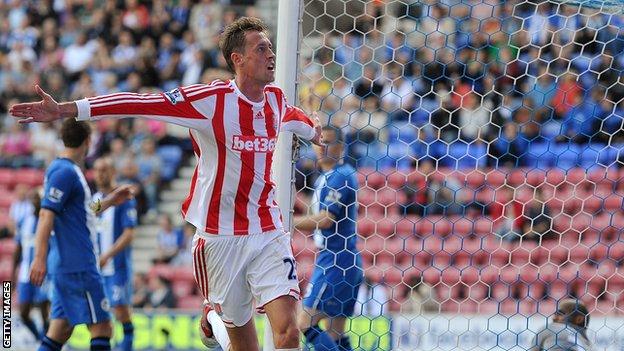 Peter Crouch still wants to play for England, despite being pushed into international exile by Roy Hodgson.
Hodgson said the Stoke striker's refusal to go on stand-by for Euro 2012 was the reason behind his decision.
But Crouch, 31, confirmed: "If I get a chance to play for my country again I'll grab it with both hands."
He added: "I'm not too concerned with it, I'll just keep on playing as well as I can for Stoke and if the call comes that would be fantastic."
Crouch has scored 22 goals in 42 appearances for England but earned his last cap two years ago.
Having scored 14 goals for Stoke last season, he admitted to being frustrated by Hodgson's decision to omit him from the full Euro 2012 squad.
But the former Liverpool player denied refusing a chance to be one of England's back-up players.
He said: "It wasn't a case of being a stand-by, I think he wanted me to play in one of the friendlies and then go home.
"We had a conversation but I think that should remain between me and the manager."