Craig Bellamy set to start on bench for Cardiff at Millwall
Last updated on .From the section Football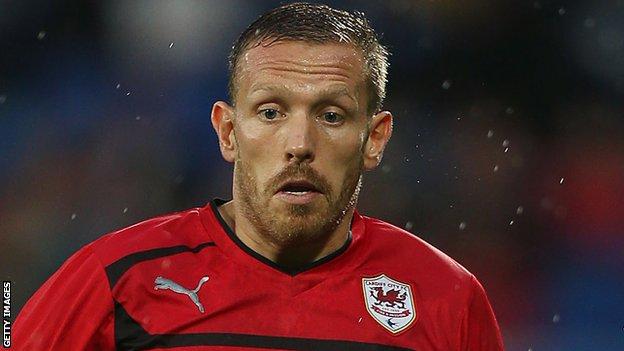 Manager Malky Mackay has said striker Craig Bellamy is unlikely to start for Cardiff City in Tuesday's Championship game at Millwall.
But Mackay says he is keen to protect Bellamy, 33, after his calf strain.
"His body needs to be managed in terms of the games we play him and the games he doesn't play and the type of training he does," Mackay said.
"He's not done much training and we've got to be very cautious. We've got two away games coming up and I'm going to be cautious with him in terms of how's he played over the next week or two.
"He'll be part of it [the squad] but whether he's involved is another matter."
Against Leeds at Cardiff City Stadium, Bellamy scored a spectacular free-kick after coming off the bench to inspire Cardiff to a 2-1 victory.
The 33-year-old had missed Cardiff's previous two games and was also absent for Wales' World Cup qualifiers against Belgium and Serbia.
The former Liverpool and Manchester City striker was recently forced to deny rumours he was contemplating retiring from the game.
And his Cardiff manager Mackay, who has consistently denied any hint of psychological problems, has nothing but praise for the Wales international since his return to the club.
"He's been nothing short of first class since he's been at this club," Mackay said.
"Barring the injury I've had nothing to deal with in terms of anything else other than him out on the pitch. As far as I'm concerned we've got a top class player here. "
Striker Robert Earnshaw will also be absent for the trip to Millwall after suffering a heel injury during training.
And Mackay confirmed defender Ben Turner will not feature on Tuesday night but could be back for Saturday's game at Crystal Palace.
Cardiff are fifth in the Championship following victory over Leeds but Mackay insists it is too early to be talking about promotion.
"[I'm] happy with the start. Nobody's getting carried away," Mackay said.
"You look at 10, 12 games as an early marker and then go on from there. Reading won the division last year and [they] were in the bottom two in October.
"But it's nice to get off to a good start."
While Cardiff have won their opening three home games in the Championship, Mackay's side are yet to win away from home this season.
But ahead of their game at Millwall, Mackay is not unduly concerned over the lack of away wins so far this season.
"Going away from home is always a tough thing to do in our division," Mackay added.
"We ended up with the second best away record in the league last year and went on a real good run in the last 10, 12 games of the season in terms of away wins.
"That doesn't hold any differences to me this year than it did last."