Mohamed Bin Hammam meets with investigators for first time
Last updated on .From the section Football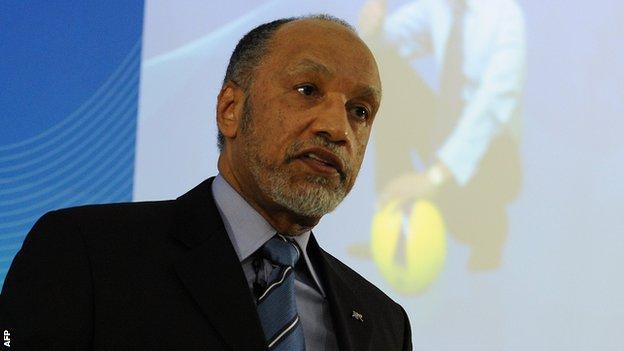 Ex-Fifa presidential candidate Mohamed Bin Hammam has met investigators as he fights corruption and financial mismanagement allegations.
It has been reported he had a four-hour meeting with investigators Freeh last week to try to clear his name.
The 63-year-old has claimed all the allegations are politically motivated.
Bin Hammam, considered one of the most powerful men in football, challenged Sepp Blatter for the Fifa presidency last year.
Bin Hammam had previously ordered his own independent expert's report into the AFC account in which he was alleged to have misused funds while president, and he is understood to have provided investigators Freeh with a line-by-line explanation of all expenditure when they met in London for the first time.
His legal problems emerged after Fifa's ethics committee banned him for life after they found him guilty of paying bribes of up to $40,000 (£25,000) to Caribbean Football Union officials.
After the ban was overturned by the Court of Arbitration for Sport in July due to insufficient evidence, he told BBC's World Football programme: "My wish now is just to quit and retire."
Bin Hammam was then temporarily suspended from all football duties for 30 days by the AFC, a decision which was later extended to 90 days by Fifa to allow their new ethics investigator Michael J. Garcia to look at the case again.