The rise of the Celtic Nation?
By Kenny Crawford
BBC Radio Cumbria
Last updated on .From the section Football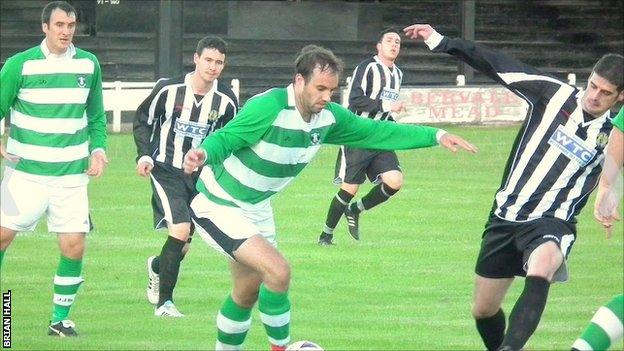 Amid the hectic sporting summer of Euro 2012 and London's Olympic Games, tucked away in the dark corner of Cumbrian non-league football an intriguing transformation took place.
Carlisle-based Gillford Park, formed in 2005 and who began life in Northern Alliance Division Two, changed their name to Celtic Nation ahead of the 2012-13 campaign.
This season sees them competing in Northern League Division One, with a view to challenging for the Football League in future.
And the man who has made it all happen is Francis E Lynch, a new owner prepared to invest money in this lower league outfit.
"He's trying to create a brand of football competitive for Carlisle United," joint-boss Stuart Bell told BBC Radio Cumbria.
"He doesn't really get involved. He tells us what he wants and stays away.
"It's absolutely brilliant what he's doing for the club. All the businesses he's had have all been massive successes and I'm sure he's looking for a similar thing here at Celtic Nation."
Ex-Carlisle United youth player Bell is among a management team of three former players orchestrating the club at pitch level.
Graham Anthony and Steven Skinner complete the trio, with former Doncaster and Sheffield Wednesday defender Graeme Lee also helping out on the coaching side.
The club have strengthened the squad with ex-professionals such as striker Adam Boyd, who scored six goals for League One side Hartlepool last season, and ex-Carlisle United midfielders Jeff Smith and Paul Arnison.
However two wins and two defeats in the league are evidence of the competitiveness of a division that has provided FA Vase finalists for the last four seasons.
"We should be up there challenging, but it is a really, really tough league," Bell said. "I don't think people understand how competitive this league is.
"There are teams in the north-east with players who could play at league level but they've decided not to because they can get as much money playing at this level.
"He [Lynch] wanted to sign people like that to attract a bit of interest. Adam Boyd scored a goal recently that was worth the entrance fee alone, if I wasn't running it I would pay to come down and watch him play."
Skinner added: "We've given ourselves a two-year plan to get up and out of this league, if possible this year.
"In this league you can't play too much football. You've got to look at going long and playing the channels and getting firsts and seconds [balls]."
Something Lynch or the management trio cannot control is the amount of fans visiting Gillford Park to support the new project.
"The home attendances have increased slightly, but not as much as we'd like them to," Bell continued.
"On average we get about 100 people through the gates and, to be fair, a lot of them are away fans.
"Trying to attract a fan-base is tough when there's so many that go to Carlisle United. But when they have an away game it would be nice if some of those fans could come down and have a look.
Celtic Nation can only prove their capabilities and long-term sustainability one match at a time, and no doubt non-league fans will keep an eye on their progress, even if it is not from the stands at Gillford Park.