Portsmouth administration: New bid received from UK investors

By Matt Slater
BBC sports news reporter
Last updated on .From the section Football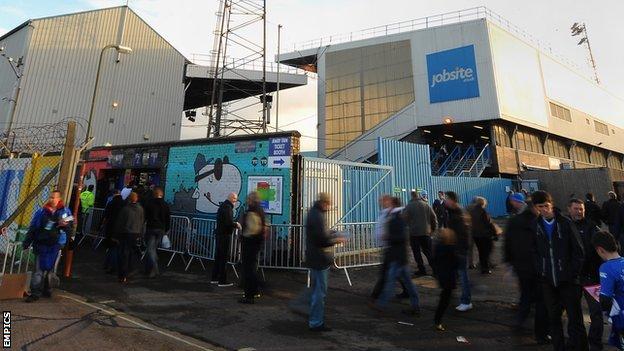 The administrators for Portsmouth have received a fifth formal bid for the stricken League One club.
The offer is from a firm called Portco Ltd, a group of UK investors fronted by Scottish businessman Harry Kerr.
The group claims to have shown Portsmouth's administrators PKF bank statements totalling £6.47m as proof of funds for its proposed purchase.
However, PKF has said ex-owner Balram Chainrai's firm Portpin and the Pompey Supporters' Trust remain front-runners.
The two other bids to get beyond PKF's preliminary checks are from another former owner, Sulaiman Al Fahim, and ex-Watford owner Laurence Bassini.
Portpin and the Pompey Supporters' Trust (PST) were asked to resubmit their bids last Friday, which they did, and it was hoped that administrator Trevor Birch could award one of them "preferred bidder" status this week.
That now appears unlikely with PST asking Birch for more time to answer Football League concerns about its offer.
The PST bid, however, is the clear favourite with the fans of the beleaguered Fratton Park outfit, and there is growing pressure on both Birch and the Football League to give the trust a chance to run a club beset by financial problems since 2009.
Two relegations and two bouts of administration have followed, and success for Portpin's bid would put the Hong Kong-based Chainrai back in charge for the third time in two and a half years.
Little more is known about Portco, although it is believed to be interested in the club for its "sleeping giant" potential and the chance to redevelop the Fratton Park site.
Kerr is the director of a relatively successful financial services company called Avalon, and is a fan of Hibernian and Arsenal. There is a Portco Ltd listed with Companies House but it voluntarily dissolved in 2010 without ever posting accounts.
In a further, and possibly related, development, there have been a number of inquiries about the redevelopment land surrounding Fratton Park.
That land, owned by a company called Miland Development 2004 Ltd, is almost 10 acres of car park and office space to the north and west of the stadium.
It was initially bought by former owner Milan Mandaric in 2004 and 2005, and then passed to the club's next proprietor, Sacha Gaydamak. The London-based French-Israeli businessman held on to the land as security for money he claims he was owed by the club until he also placed Miland into administration last year.
Once valued at almost £7m, the land is now available for £2.5m but it is practically worthless without control of Fratton Park, as Portsmouth City Council will never grant planning permission for anything on the site unless Pompey's existing stadium is upgraded or they get a new stadium elsewhere.
Given this fact, it was widely hoped the Miland acres would be reunited with Fratton Park to enable a new owner of the club to forge ahead with a complete redevelopment of the site.
That is still the desired result but a number of sources have told the BBC that Miland could again be used as a pawn to apply pressure on the owners of Pompey, whoever they may turn out to be.