Arsenal keeper Vito Mannone grateful for time at Hull
Last updated on .From the section Football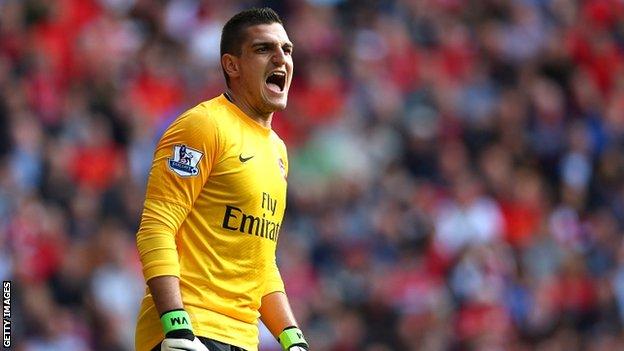 Arsenal goalkeeper Vito Mannone believes his development was helped by a loan spell at Hull City, despite his initial reservations about the move.
Mannone joined Hull for a second time in January and made 23 appearances before returning to Arsenal, where he has started three matches this season.
"Nobody wants to go there really, but I found a good club, good fans and gained experience," said the Italian, 24.
"It helped me going onto the pitch thinking: 'I can be number one now'."
Mannone was signed from Italian side Atalanta as a 17-year-old in 2005 and spent a short period on loan at Barnsley a year later.
His first Premier League game for Arsenal came in a 4-1 win against Stoke in May 2009, and he gained a run in the team during the following season before a first loan spell at Hull in November 2010.
After playing 10 matches the former Italy Under-21 international returned to the Emirates, but then came a calamitous performance in their 3-1 Champions League loss at Olympiakos.
"It is a game where, I know you find it crazy, but it was a good lesson for me," he said.
"I had another mind at the time. It was almost one year ago and my mentality was I was nearly away from Arsenal. I was expected to go on loan. I didn't feel confident.
"I had not played for a year-and-a-half, and at the time, my mind was not ready. I did not help myself because I needed to be sharp and always on my toes."
Mannone rejoined Hull for the second half of last season, making 23 consecutive appearances, and has benefited from injuries to Arsenal's first-choice keeper Wojciech Szczesny this campaign.
He kept clean sheets away to Stoke and Liverpool before producing a commanding display in Tuesday's 2-1 win at Montpellier.
"Every goalkeeper has his own path, and I had mine," Mannone explained. "I had bad times and I just rolled up my sleeves and worked hard. Then, I thought: 'Let's go to Hull'.
"I played games as a number one so that's what I needed.
"The keeper is one of the most important positions because you can make a save and bring the three points home or you can do a mistake and everything is your fault. I am ready for it.
"Before the Southampton game [on Saturday, which Szczesny played] the boss talked to me, and for the first time I felt he understood I was ready to be number one.
"I hope, after this [Montpellier] result, something has changed."