Anouma calls for Caf term limit
Last updated on .From the section Football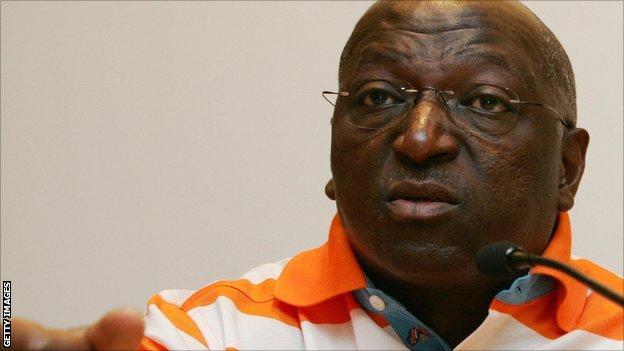 Fifa executive committee member Jacques Anouma has called for a strict term limit for the presidency of the Confederation of African football.
The former president of the Ivory Coast football federation is hoping to become next president of Caf.
The position has been held by Cameroon's Issa Hayatou since 1988.
Anouma has told the BBC's World Football show that the game in Africa cannot carry on being "run like a fiefdom controlled by a village chief."
He wants the next Caf president to serve a maximum of three four-year terms.
"I believe three mandates of four years will be the right thing; 12 years will be enough for anyone to put in place his programme," said Anouma.
"If we do that it's going to solve the problem because people will not be able to last longer than they should.
"Whatever one cannot do within 12 years, he's not going to be able [to do it] even if you give him more time."
The former president of the West Africa Football Union is no doubt mindful that there are many in Africa who feel that Hayatou has overstayed his welcome.
If the controversial Cameroonian gets another term in March next year, as expected, he would have been in power for 29 years by the time his mandate expires in 2017.
Anouma's ambitions were dealt a huge blow at the recent Caf congress in Seychelles where a new rule was adopted stating that no one besides vote-weilding members of the executive committee can stand for the top job.
This rules out Anouma and South Africa's 2010 World Cup organiser Danny Jordaan - and effectively leaves Hayatou to stand unopposed.
Anouma sits on the Fifa executive committee by virtue of which he has a place on the Caf executive committee as an ex-officio member.
As such ex-officio members are not directly elected, they do not have any voting rights, although they are allowed to participate in all deliberations.
However, the 58-year-old Ivorian has refused to withdraw from race.
He says according to article 21 in the Caf statutes, it will take 90 days for the Seychelles rule to come into force - by which time he will have officially put forward his nomination.