Rangers 'no' vote pressured - Charles Green
Last updated on .From the section Football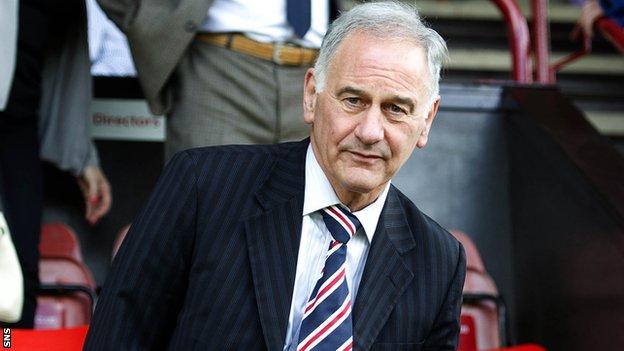 Rangers chief executive Charles Green believes several Scottish Premier League clubs were pressured into voting against his club's entry application.
Green's consortium relaunched the Ibrox club after the former incarnation could not be saved from liquidation.
And Green's bid to take over the SPL share formerly owned by Rangers was rejected when 10 clubs voted no.
"I believe that a number of the clubs were bounced into it," said Green.
"Why, for example, would Ross County spend all their life-time trying to get into the Premier League to find Rangers were not there? It's inconceivable."
Green said that Motherwell would be made welcome at Ibrox on League Cup duty next week despite their 4 July vote.
However, he made it clear that other top flight clubs would not receive such a warm reception.
Rangers v Motherwell will be broadcast live on BBC One Scotland on Wednesday and it will be the first visit of an SPL club to Govan since the summer ballot.
Following that rejection, Rangers applied to join the Scottish Football League and were granted entry at Division Three level.
Speaking to the club website, Green said: "We have seen and heard lots of hypotheses on radio, in newspapers and on TV and we understand fans' feelings
"But what fans have to understand is what occurred at Hampden over our SPL status when 10 clubs voted against and one abstained.
"[Manager] Ally [McCoist] and I sat there and we know what happened. We know that only half of those clubs wanted Rangers out of that league.
"But we understand what happened and we know the reasons behind it. We understand we have to suffer the punishment for the sins of the forefathers and we have done that.
"What we have to understand is not everyone in that room wanted Rangers out of that league and I know - because I could see glints in eyes - which ones were happy and which ones were not.
"We recognise what happened and when some of these clubs come to Ibrox they will be welcome. When others come, they won't be so welcome."
Like several other SPL clubs, Motherwell consulted with fans, in their case the Well Society - supporters who have invested in a fan ownership scheme - before lodging their 'no' decision.
"Motherwell are a club who are suffering financially because Rangers are not in the SPL and we don't believe that Motherwell are anti-Rangers," added Green.
"We believe that there was pressure; they were under pressure from their own fans and they took a decision and we understand that.
"If you had taken all of these external pressures away then Motherwell and other clubs would have voted differently."
Meanwhile, Rangers' Kevin Kyle will miss the visit of Motherwell following his red card during Tuesday's Ramsdens Cup exit against Queen of the South.
The striker had already been ruled out of Saturday's meeting with Montrose but the Scottish Football Association have applied a two-match ban after receiving referee Stevie O'Reilly's report.