England manager Roy Hodgson in plea for TV scheduling help
Last updated on .From the section Football200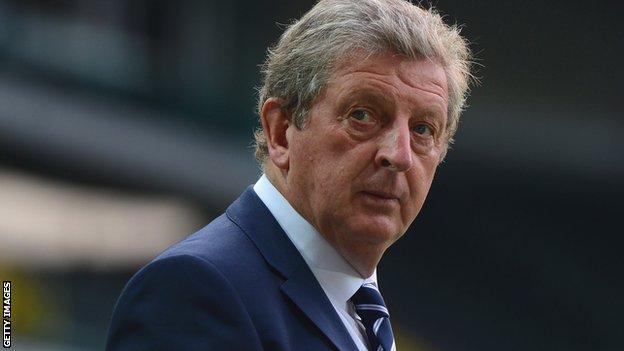 England boss Roy Hodgson wants television companies to stop asking Premier League's top teams to play on the Sunday before an international.
Because affected players need time to recover, Hodgson thinks such scheduling limits his amount of preparation time.
Hodgson also called for a winter break, saying it would give the English season a more "logical" schedule.
"It would be lovely to think that one day we could all get together and say 'England is important'," he said.
Four of England's eight remaining World Cup qualifiers are scheduled to be played on Friday evenings.
Hodgson's training time with his players is already in short supply and he feels it is limited further when his main players are involved in Sunday's fixtures.
He cited the example of Manchester United's recent televised 16:00 BST clash at Southampton, ahead of the World Cup qualifiers against Moldova and Ukraine, as unhelpful scheduling.
Speaking in a question-and-answer session, broadcast on the Football Association's website, he added: "It would be nice if, when we're playing on Friday, the top teams played on Saturday and not Sunday.
"Then on Monday we could do a bit of work and on Tuesday do some serious work.
"But every time, the top clubs have played on Sunday and some at five o'clock on Sunday. If they're from Manchester and they've played in Southampton, they get back late at night then have to come down again."