Damien Duff to retain century of caps despite administrative error
Last updated on .From the section Football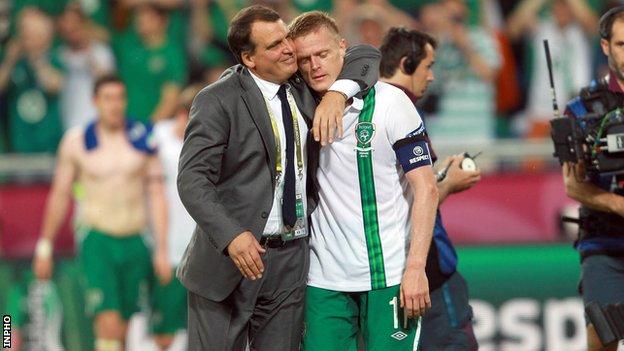 Damien Duff's achievement of having reached 100 Republic of Ireland caps will be recognised by the FAI despite an apparent administrative blunder.
Doubts were raised over the legitimacy of Duff's century haul when it emerged a friendly against Hungary has not been logged by Fifa as a full international.
However the FAI has stated it will be awarding caps for the June fixture.
Fifa and Uefa confirmed on Thursday the decision to award a cap is at the discretion of the national association.
Fifa confirmed to the FAI that one of the assistant referees who officiated in the 0-0 draw in Budapest on June 4, Mr David Vang Andersen, was not on the current Fifa list of referees.
An FAI statement explained: "this is the reason why they (Fifa) are not recognising the match for their international coefficient".
The Hungarians, who were not aware of the discrepancy until it surfaced in the Irish media, have assured the FAI they intend to record the fixture as an international match.
The FAI has decided that the players who participated in the Hungary game deserve caps, stating: "particularly Damien Duff for the service that he gave to his country" .
The FAI have informed the retired winger that it will recognise his status as having earned 100 caps for the Republic of Ireland.