Adam Johnson injury prompts Martin O'Neill caution
Last updated on .From the section Football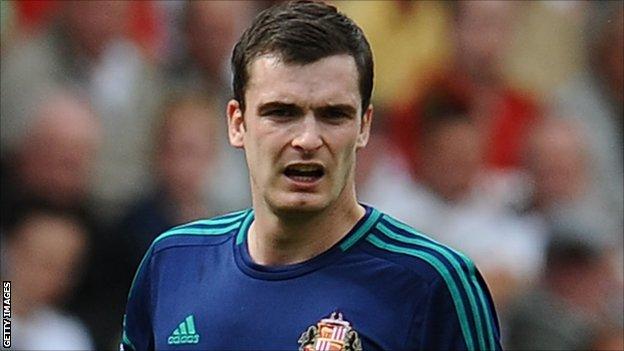 Sunderland manager Martin O'Neill has said he will not rush winger Adam Johnson back to first-team duty following a thigh problem.
Johnson, 25, picked up the injury after he was called up to the England squad, and missed last weekend's 1-1 Premier League draw with Liverpool.
"The medical side are happy with the progress," O'Neill told BBC Newcastle.
"But you want to make sure things are right rather than players going in and missing a lot of weeks after that."
The setback has limited the Sunderland-born winger to two appearances since his August move from Manchester City.
O'Neill added: "We were hoping when he came back from England that it would clear up.
"We thought he might have made it for Liverpool, but on Friday morning he was still feeling it having trained on Thursday and not done so badly."
"Rather than risking him, we left it another week, I was reasonably hopeful last week, maybe this extra week will help but I couldn't be certain."
Meanwhile the Black Cats have free agent James McFadden training with the first-team squad.
McFadden, 29, was released by Everton at the end of last season after signing a short-term deal in October 2011.
"He's been here for a few days, he has no club, he's out of contract," O'Neill added.
"He's been training with Motherwell to keep himself fit, and he's been here for a few days.
"We'll see, there's been no promises made on either side, after a day or two working with me he may not fancy it.
"He's a very decent footballer, he was allowed to leave Everton, and we've perhaps got a smaller squad so he's definitely worth looking at."