Terry Brown's AFC Wimbledon exit sad - Dave Anderson
Last updated on .From the section Football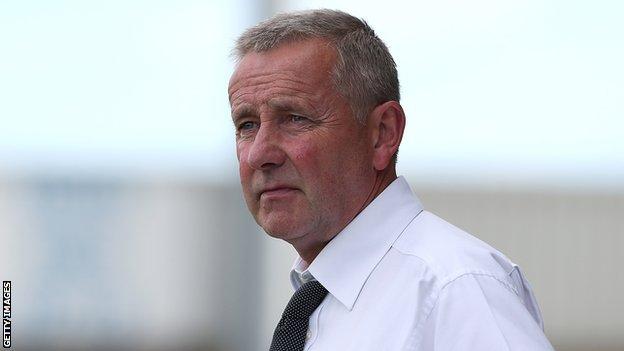 Former AFC Wimbledon boss Dave Anderson says the League Two club's decision to sack manager Terry Brown was "sad".
Brown's predecessor Anderson told BBC London 94.9: "I find it very sad.
"The manager in me feels for Terry but the ex-Wimbledon manager in me understands the club are always looking to move on."
He added: "I understand the drive and determination the club have.
"They have a sense of drive I have never seen at any other football club."
"They will make the decision they feel is right and be very strict with what is expected."
Brown took over at AFC Wimbledon from Anderson in May 2007, with the club in the Isthmian League.
Brown led the club into the Football League following three promotions in four years, and Anderson says he will be remembered as a club legend.
"When I look at where I left the club to where he's taken it to, it's a gulf apart," Anderson continued.
"He's moved the club on to a level where they always wanted to be, in the Football League.
"It's something they will never forget.
"I had one promotion and when I go back I'm treated like a king. What I've did, he's done 10-fold so they will always remember it."
Former Brentford manager Andy Scott and ex-Fulham and Barnet boss Lawrie Sanchez are among those to have been linked to the vacant post, which has been advertised on the Dons website.
"I don't see Wimbledon taking a chance on a non-league manager," Anderson said.
"I expect them to look for someone with League experience.
"It's a massive task for the next guy following in Terry's footsteps with his achievements.
"I desperately hope they make the right choice.
"The easy thing when you are a board is getting rid of your manager. The hard thing is replacing him with the right one.
"I hope whoever comes in understands and buys into the club."