Exeter get £275,000 for Troy Archibald-Henville and James Dunne
By Brent Pilnick
BBC Sport at St James Park
Last updated on .From the section Football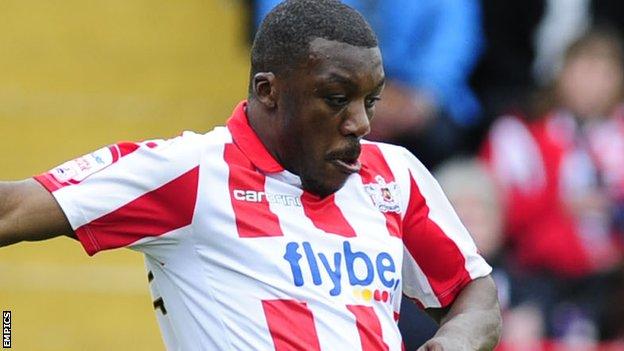 A tribunal has awarded Exeter City an initial £275,000 for Troy Archibald-Henville and James Dunne.
Both players were under 24 when their contracts ran out in the summer meaning Exeter were liable for compensation.
Swindon Town will have to pay £200,000 for defender Archibald-Henville, 23, while additional fees could see that figure rise by up to £120,000.
Stevenage must pay £75,000 with a possibility of £50,000 in extras.
Both players are also the subject of a 20% sell-on clause for any fee that Swindon or Stevenage get in the future for the players.
"It's certainly something we were due and certainly something we were hoping for," Tisdale told BBC Sport.
"When you have good young players that you take form other clubs, albeit we paid for Troy, and you develop them and they go on to earn more money elsewhere then it's only right and proper that under the system we gain from it."
Swindon will have to pay Exeter £20,000 when Archibald-Henville passes each of the 15, 30, 45, 60-games marks for the Robins.
Should they get promoted to the Championship Swindon will also have to pay Exeter £40,000 for the former Tottenham youngster and an additional £100,000 if they are promoted to the Premier League.
On top of Dunne's £75,000 fee is an extra £25,000 when he plays 25 and 50 games for Stevenage.
Tisdale said that the club had expected to get a certain level of fees from the tribunal and has spent some of the cash already on the squad.
"We've known for a long time that there was a possibility of a compensation fee for these players, even going back a year.
"Some of the money is already spent within the playing budget, the board were good enough to put some money into the budget in readiness for this tribunal.
"We've already attributed that money into the budget already so this money is not going to all come flooding back in."
But Tisdale says that the money that is left will be used to try and keep his current squad, which lies third in League Two, together.
"The biggest thing for me is that when a squad is doing well any money during the course of the year needs to be spent re-investing into the team and keeping those players on hopefully a new contract.
"At some point I'm sure it will give us the advantage of being in that position with regards to contracts for players etc."