Kenny Shiels maintains stance on Paul Cairney penalty award
Last updated on .From the section Football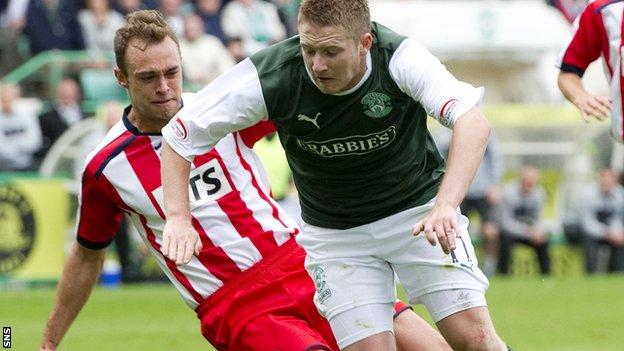 Kilmarnock manager Kenny Shiels has responded to Hibernian's angry reaction to his claims that Paul Cairney went down too easily to win a penalty.
Shiels used a newspaper column to repeat his view that Cairney had made deliberate contact with Ryan O'Leary.
Hibs said that the Ayrshire club should be "embarrassed" by his comments.
But Shiels told BBC Scotland: "People can say that the hardest thing is to say sorry, but sometimes the hardest thing is to tell the truth."
Earlier, Hibs boss Pat Fenlon said Shiels should admit he made a mistake.
Leigh Griffiths converted the penalty awarded by referee Steven McLean, with Hibs winning Saturday's match 2-1.
Television footage showed there was contact but Shiels told the Daily Record: "I maintain it wasn't a penalty and the fact Paul winked at our keeper tells its own story.
"What Paul did was try to gain an advantage."
Fenlon said that managers often make rash comments in post-match interviews but was disappointed by Shiels sticking to his guns.
"As managers we tend to, at times, say stupid things in quick reaction to things without thinking about it," he explained. "We've all done it.
"I think the biggest gripe for me is that the evidence is there, it's in black and white. Hold your hands up and say you got it wrong and move on.
"I don't need to defend any of my players in relation to their honesty.
"He [Cairney] has been fantastic. He does his talking on the pitch and that's what I want him to do.
"We just want to show people what we can do when we play football."
The Edinburgh club took the unusual step of releasing a statement condemning the comments attributed to Shiels in his column.
"It is disappointing that Mr Shiels chooses to use his national newspaper column to further imply cheating by a Hibernian player when the video and photographic evidence is absolutely clear and demonstrates that the referee made the right decision," it read.
"The incident has been fully exposed by the television coverage.
"Everyone connected with Kilmarnock should be embarrassed that their manager continues to draw attention to the fundamental flaws in his observation of what happened."