Alex McLeish 'in no rush' for management return
Last updated on .From the section Football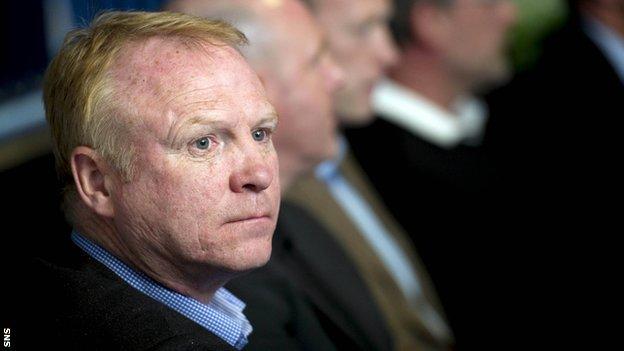 Alex McLeish says he is "not desperate" to return to management, insisting he needed a break from the job.
And the 53-year-old Scot revealed he has resisted interest from clubs in Europe and the Middle East.
"I'm not in a rush to come back," he said. "If I had gone back in, my enthusiasm wouldn't have been there. Now it's coming back."
And he added: "I've had to rest my head over the last few months because last year I didn't get a holiday.
"I went straight from Birmingham into Aston Villa and, as everybody knows, it was quite a rough time.
"Keeping Villa up in the end was something that was very important to me because of the horrible events that ensued last season, injury-wise and illness-wise to Stan Petrov [who was diagnosed with acute leukaemia in March].
"It was very, very difficult.
"I'm just going to watch as much football as I can, make sure my finger's still on the pulse; be back refreshed, not tired."
McLeish's last prolonged absence from the game came after he left Rangers in the summer of 2006.
A move into international management with Scotland followed at the beginning of 2007 and, after 10 months in the job, he moved onto Birmingham and then Villa.
"I've had one or two agents asking if I fancied [managing in the] Middle East and an agent even asked if I fancied France," he told BBC Scotland.
"Just after I left Villa, a Turkish agent asked if I'd be interested in speaking to Besiktas and I knocked them back.
"Nottingham Forest had mooted that they would like to talk but they were all too early and it was right after I left Villa."