Reading midfielder Jem Karacan desperate for Turkey call
Last updated on .From the section Football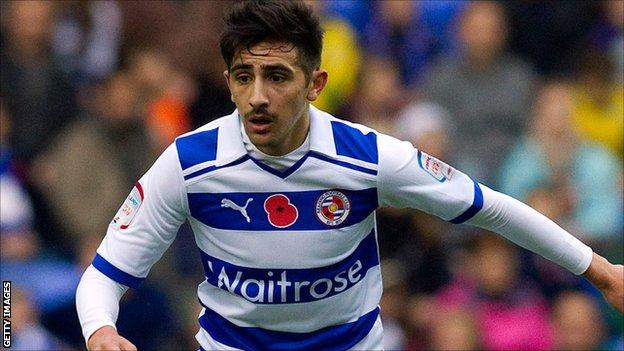 Reading midfielder Jem Karacan says he hopes the exposure of playing in the Premier League will help him win his first full cap for Turkey.
Karacan, 23, has won international honours for Turkey at Under-17, 18, 19 and 21 level but is yet to make a senior appearance.
"Hopefully I can play as many games as I can in the Premier League and prove to Turkey I can play international football," Karacan told BBC Berkshire.
"I'll work hard to win that first cap."
Karacan, who signed a new long-term deal with the club on Thursday, says it is frustrating to have not won that first cap but believes he is playing at the right club to help him do so.
"Every team in the Premier League is a high-profile side, everyone around the world knows that," he said.
"The Turkey coaches know I'm in the Premier League now so I think it gives me the first step on the ladder I need to get that first cap.
"If it can make that step to become an international footballer that would be brilliant."
Karacan feels it has been hard for Anglicised Turks to earn international recognition, but he hopes things are changing.
"Colin Kazim-Richards was at Sheffield United but he got a move to Fenerbahce and won his first cap after that," he said.
"I don't think there are many people who have got a call up from the Premier League who are half Turkish and half English in the last few years I've been pushing for a call up."
Karacan added: "So it has been quite frustrating but year-by-year they have been sending more scouts over.
"It's one of those things you have to deal with, the new manager has come in and we've got German Turks and Dutch Turks playing for them so hopefully there can be a couple of English Turks as well with myself and Kerim Frei at Fulham.
"We'll be pushing hard and I just want to play for Turkey and it would be a dream come true to get a first full cap. I'll do everything I can to do that."