Off The Bawl - 19 September
By Tam Cowan
Off the Ball presenter
Last updated on .From the section Football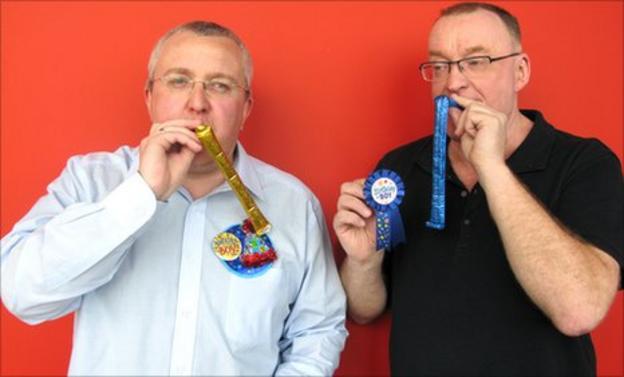 Greeeeeetings!!! Our guests last Saturday were Dundee United midfielder John Rankin (famous for 'the squiggler') and Hearts legend Gary Mackay (famous for the Scotland goal that sent Republic of Ireland to the 1988 European Championship finals).
So, who can name a player we'd immediately associate with one outstanding thing he did on the pitch?
As a mark of respect to Giggsy, the Forfar groundsman's beloved dog that passed away last week, we also paid tribute to the animals that have been involved in football (cue 350 texts and emails about Terry Hurlock).
Our Team of the Week - as a wee nod to Kate Middleton - was the Photography XI and we even played out with a song dedicated to the Duchess of Cambridge.
Here's another selection of the most petty and ill-informed texts and emails on radio...
PLAYER ASSOCIATION
John Hannah in Glasgow said: "Denis Law for the backheeler that relegated Man Utd."
John Baillie in Prestwick said: "Former Ayr Utd and Motherwell goalie Hugh 'Shuggy' Sproat for swinging on the bar."
Adrian Quinn from Fort Wayne, Indiana said: "What about Graeme Hogg? Famous for getting decked by Craig Levein in a pre-season friendly at Raith Rovers. If only he could instil the same fighting spirit in the current Scotland squad..."
Anon said: "Peter Van Vossen - synonymous with the sitter over the crossbar at Parkhead."
Ronnie in Pollokshields said: "Think Jim Baxter and you immediately think of the great man playing keepy-uppy at Wembley against the World Champs."
Macky from Oban said: "Colombia keeper Rene Higuita will always be remembered for the "scorpion" kick on the goal-line at Wembley."
Sam in Airdrie said: "I've got two goalkeepers - David Seaman, lobbed twice from long range and Bruce Grobbelaar, who famously "got the wobbles" on the goal-line during a penalty shoot-out in a Euro Cup Final."
ANIMALS IN FOOTBALL
Stevie in Motherwell said: "What about the horse that bumped into Alex Cameron outside Hampden?"
Michael the Ref said: "There's an elephant on the badge of Dumbarton. And another two of them in the centre of their defence."
Kris in Lerwick said: "I nominate the seagulls at Pittodrie, famous for obstructing the view as they swoop for half-time pie scraps."
TEAM OF THE WEEK
The Photography XI(aka Cannon Athletic)
1/ Lens Lehmann
2/ Craig Levein (he's so "negative")
3/ Derek Whyte Balance
4/ Film O'Donnell
5/ Snap Stam
6/ Henri Camera
7/ Prints Bauben
8/ Scott Brownie
9/ Shutter Arveladze
10/ Topless Ferdinand
11/ Justin Flash-the-noo
AND FINALLY...
The song that played us out? Well, we were looking for a tune we could dedicate to Kate Middleton (she never misses Off The Ball, apparently). And here's the pick of the bunch...
For Your Eyes Only (Big C in EK)
I've Got A Lovely Bunch Of Coconuts (Kieran McKay)
My Camera Never Lies (Frank Graham)
You Need Hands (Gavin McGowan)
Mammaries Are Made Of This (Duncan M)
Great stuff. But, as requested by Pat Murphy in Paisley, we finished with Ken Dodd singing We Are The Diddy Men.
PS. A final thought from regular listener Jim in Netherlee who said: "One thing we never give Andy Murray credit for is the pain he must go through whenever he goes 5-1 up in a set. Just think how that must remind him of the Scottish Cup final..."
To join in the fun on this Saturday's show, call 0500 929500, text 80295 or email offtheball@bbc.co.uk
Listen to the most recent Off the Ball programmes.
Download the latest Off the Ball podcast.