Andy Carroll: Sam Allardyce urges England to treat striker 'carefully'
Last updated on .From the section Football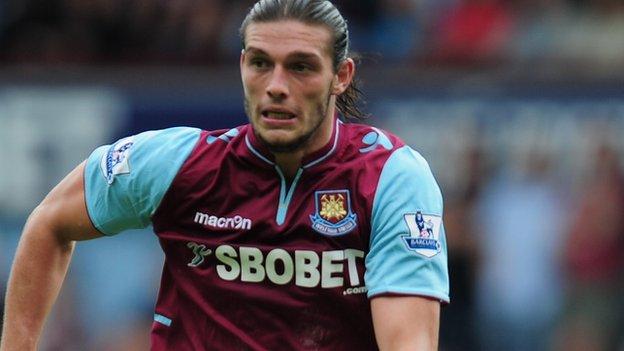 West Ham manager Sam Allardyce wants England boss Roy Hodgson to treat Andy Carroll with caution if he returns to fitness in time for the next round of World Cup qualifying matches.
The Hammers striker, 23, has resumed training after a hamstring injury, with England playing on 12 and 16 October.
"It would need a conversation between me and Roy to say 'Andy is back but please be careful'," said Allardyce.
"I am not saying 'don't play him', just be careful of the situation."
Carroll on loan in August and impressed during his debut against Fulham on 1 September.
But he limped off in the second half and was ruled out of the internationals against Ukraine and Moldova.
Carroll could, however, feature for West Ham against Arsenal on 6 October and that might see him called up by Hodgson.
England face San Marino at Wembley on 12 October before travelling to Warsaw for their meeting with Poland four days later.
"The last thing we would want is to spend all that time to get Andy fit again, play for us, go to England and get injured playing for England," said Allardyce.
"If I was lucky enough to have him fit for Arsenal and he played, Andy wouldn't play all game. I wouldn't be daft enough to keep him on for the full 90 minutes.
"That would mean if he went to England I would express the wish that England be careful on how long they play him.
"What we don't want is to find ourselves with another soft tissue injury and fatigue brings soft tissue injuries."
Carroll has made eight appearances for England, and scored the first goal in their second group game at Euro 2012 against Sweden.
He also featured against Ukraine and Italy at the tournament before starting a friendly against the Italians in August.
Allardyce added: "I can't tell Roy what to do - if he is fit to play for England it is up to them what they do," he said.
"All I can express is my situation and Andy's situation for the benefit of us, for the benefit of Andy and for the benefit of England."