Ashley Young out for Manchester United until October
Last updated on .From the section Football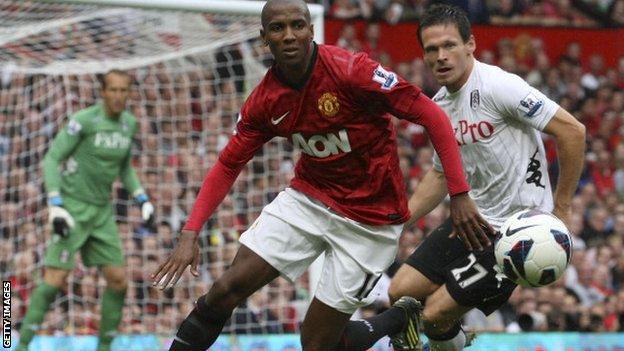 Manchester United will be without Ashley Young for a further two to three weeks because of bruised cartilage on his knee.
Sir Alex Ferguson confirmed the England forward, 27, who has not played since August, would not be rushed back.
Ferguson said: "We're taking our time. You can easily play with it and train but we're not going down that road, we want to make sure he's okay."
Wayne Rooney should be fit to play next week, the United manager added
The England striker has not featured for United since suffering a gash on his right thigh after coming on as a substitute during a 3-2 victory over Fulham on 25 August.
"He's not far away. I think he may be fine for next week," said Ferguson.
"He's doing a lot of great training and has been working hard. It's just a matter of getting him into the full football training side of things, which he has been part of."
Young has also not played since the victory over Fulham but he was not expected to return to action as quickly as team-mate Rooney.
Ferguson said: "We get a lot of experiences these days of these injuries re-occurring when they come back too quickly and we don't want that with the players. We want to give them a full recovery.
"He should be okay in two or three weeks' time."
Ferguson revealed Darren Fletcher, who came on as substitute in the 1-0 Champions League victory over Galatasaray, is expected to start Wednesday's Capital One Cup tie against Newcastle.