Manager Stuart McCall open to extending Motherwell stay
Last updated on .From the section Football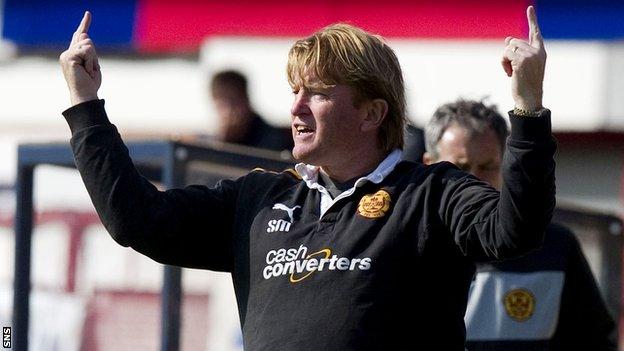 Motherwell manager Stuart McCall is open to extending his contract with the Scottish Premier League leaders.
The 48-year-old former Scotland star has impressed in his first 18 months at Fir Park, reaching the Scottish Cup final and Champions League qualifiers.
"I'm more than happy with the job I'm doing and the squad of players and staff I'm working with," said McCall
"I think people who know me know I'm fairly loyal. if I'm happy somewhere, I'm happy. It's not lack of ambition."
McCall, who played for Everton and Rangers, signed a two-and-a-half-year deal in late December 2010 after a spell in charge at Bradford City.
The Lanarkshire side finished third in the SPL last term and currently sit top of the pile following an unbeaten start to the campaign.
McCall said that contract negotiations were likely to begin in the "next few weeks".
And he added: "Even as a player, if I was happy and enjoying coming into work, which I certainly am here, I don't have aspirations, I don't look higher, higher, higher.
"I'm in the SPL, at a terrific club like Motherwell, and I enjoy coming into work every day.
"I have nothing against thinking I will look to extend my contract."
McCall's contract situation mirrors most of his players and he admitted last week that he could lose a full team next summer.
But while he is realistic about the possibility of losing the likes of goalkeeper Darren Randolph and midfielder Nicky Law, he hopes the job satisfaction he enjoys could persuade some players to stay.
"Apparently I have taken a little bit of criticism about answering a question, but I think everyone knows loads are out of contract," McCall said.
"We have got players who have come up from down south and maybe wanting to come up for a couple of seasons, but again the grass isn't always greener.
"If you enjoy what you're doing, is it worth an extra 250 quid to move?"
Captain Keith Lasley and Stevie Hammell both extended their contracts after last season ended and McCall hopes they might be able to tie some players down quicker this time round.
"The budget had to be slashed by £200,000, that's why the Keith Lasley and Stevie Hammell saga took a bit longer, because other clubs in the SPL were willing to give them more money," he added.
"But thankfully their loyalty to Motherwell kept them here.
"It's a long way down the line but I'm sure there will be talks between now and Christmas.
"We have to be realistic, some players will move back down south, but this is where we have to bring in players who can hopefully do just as good a job."