Alan Pardew credits former Newcastle boss Chris Hughton
Last updated on .From the section Football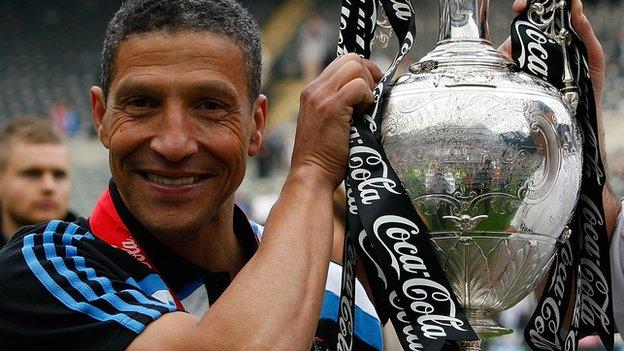 Newcastle manager Alan Pardew believes his predecessor Chris Hughton deserves credit for the job he did at the club.
The former Tottenham defender guided Newcastle back into the Premier League following their 2009 relegation.
"Both of us could probably look each other in the eye and say we have done a decent job at Newcastle - so far on my part," Pardew said.
"On his part now, he has a different agenda, a different project, and a tough one because Norwich, second year in, have not really had too much investment in the team - it's tough."
After he was sacked by Newcastle in December 2010, Hughton spent last season in charge at Championship side Birmingham before replacing Paul Lambert at Norwich in June this year, with the Canaries preparing for their second consecutive year in the Premier League.
Pardew, who was named Premier League Manager of the Season after guiding Newcastle to a fifth-place finish in May, is sure that Hughton will get a good reception.
"He deserves it," said the Newcastle manager. "I don't think there will be one fan who would begrudge singing his name, or whatever the fans decide to do.
"Certainly on my side, I said when I won my award at the end of the year that I found in here a winning spirit and a good organisation.
"Obviously, I wasn't party to why he was taken away from the job, I just did what I do when I arrived."