Roy Hodgson's England: Trevor Brooking on Dan Ashworth
Last updated on .From the section Football70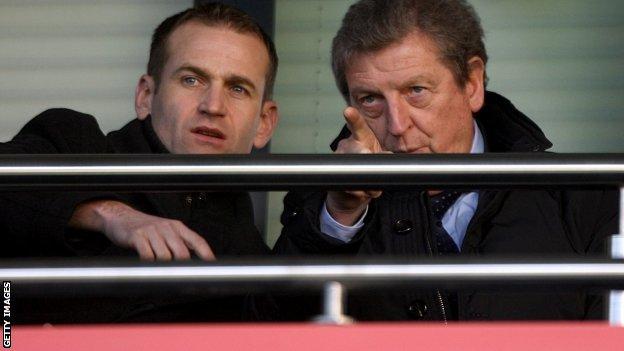 If you want to know how good Dan Ashworth is, consider the fact he is having to serve almost a year's notice before taking up his new director of elite development job at the Football Association.
West Brom believe it could take that long to find someone capable of replacing their sporting and technical director - and the FA is willing to wait for the 41-year-old because he is rated so highly.
This is the second time the FA has turned to The Hawthorns to make a major appointment inside six months and Ashworth might prove to be even more important to England's long-term prospects than manager Roy Hodgson.
Ashworth will oversee youth development, coaching and the high-performance facilities at St George's Park - the FA's new national football centre at Burton - all with the overarching aim of improving the performance of the national team.
His line manager, Sir Trevor Brooking, said: "Dan certainly won't be lacking things to do."
Youth development
Ashworth, who headed up Peterborough's academy set-up and was later Cambridge United's centre of excellence director before joining West Brom in 2004, will help to develop and implement a "technical script" for the FA.
This might sound like empty jargon but it will set out how England teams play, from Hodgson's senior side down to the under-11s.
The emphasis will be on playing the ball out from the back and keeping possession - qualities England teams have not always had in abundance.
"The game is getting more technical and there is a focus on decision-making, skill and creativity," said Brooking, the FA's director of football development.
The hard part will be making this script become reality.
Implementing the "elite player performance plan", which is designed to make club academies more accountable, should help.
A senior coach at each academy will be interviewed and have to provide a performance plan outlining their facilities, coaching and philosophy.
The level of funding given will depend on the status the club's academy is awarded. The audits took place this summer and Ashworth oversaw West Brom's application for category A status.
Brooking said: "Dan has been through the process and can advise the clubs with the benefit of first-hand knowledge."
Ashworth will also oversee coaching of England teams below the seniors and under-21s. The FA wants him to take a "holistic approach", meaning players will be taught more than just technical skills, but also developed physiologically, socially and psychologically.
The former Norwich City youth team player was an education and welfare officer at Peterborough before becoming a youth coach and then head of the club's academy.
Peterborough director of football Barry Fry worked closely with him and said he had excellent credentials when it came to youth development.
"It was an excellent academy, with Dan very much at the forefront," Fry told BBC Sport. "He brought through players like Matthew Etherington, Simon Davies, Sean St Ledger, Adam Drury and Mark McKeever, which tells you all you need to know.
"He was so good at spotting talent and a lovely man who got on great with the kids and their parents, which is very important."
Improving coaching
The FA wants the £120m St George's Park to be an "educational hub", where players and coaches from around the country come to learn.
On Ashworth's watch, an online resource for coaches will be set up at thefa.com, including videos showing examples of good training sessions.
Coaches will also be encouraged to watch England youth teams being trained and listen to lectures in the 90-seat auditorium.
Ashworth has a Uefa pro licence - European football's highest coaching qualification - and worked as a coach at Peterborough.
Fry said: "I remember Dan was a very good communicator and I know the lads found his sessions interesting and stimulating.
"He'd encourage them to come up with ideas and solutions themselves, rather than telling them what to do.
"Then he's gone on to oversee academies and recruit coaches."
High performance
West Brom have a new, state-of-the-art training centre housing a hydrotherapy pool with underwater cameras and an anti-gravity treadmill.
Players' performances in training are analysed using GPS tracking and computer software and rehabilitation from injury is carefully monitored. It cost £500,000 and was overseen by Ashworth.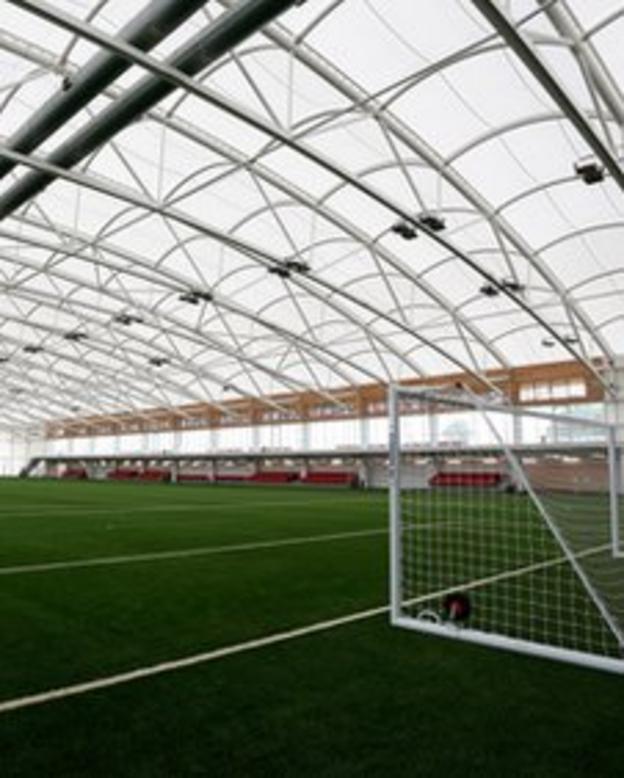 The facilities at St George's Park are on another level altogether and the aim is to provide the best performance analysis, sports science, medicine, psychology and research in the country there.
Brooking said: "The facilities at St George's are amazing. The job now is to recruit the staff to match."
Ashworth will also oversee scouting, video analysis and the setting up of a vast player database.
He certainly knows a thing or two about scouting. Ashworth said he used to watch about 300 matches a season at West Brom and he secured some bargains for the club, including Graham Dorrans (£100,000), Youssuf Mulumbu (£175,000), Jonas Olsson (£800,000) and McAuley and Jacob (both free).
This was a big reason why the Baggies had the second-lowest wage bill in the Premier League last season and debts of only £2m.
Diplomacy
"No matter how good our facilities, we can't function without the help of other organisations such as the Premier League, Football League and League Manager's Association," admitted Brooking.
"He's a good man-manager and that's very important. We are trying to be a supportive organisation. We need everyone to buy into what we're doing.
"Dan has worked at a Football League and a Premier League club, and he knows how a club owner's mind works."
It is hard to think of a more demanding job in football, or one demanding so many different skills. Brooking had originally wanted to pair Ashworth with Gareth Southgate, who had been working as head of elite development, but the former England international quit the FA this summer.
"Dan has so many different skills and areas of experience and he's relishing this opportunity," Brooking said.
The former West Ham and England player hopes Ashworth will soon be in place to start the long process of turning round English football.