Irish FA suspends Newry City after club is wound up
Last updated on .From the section Football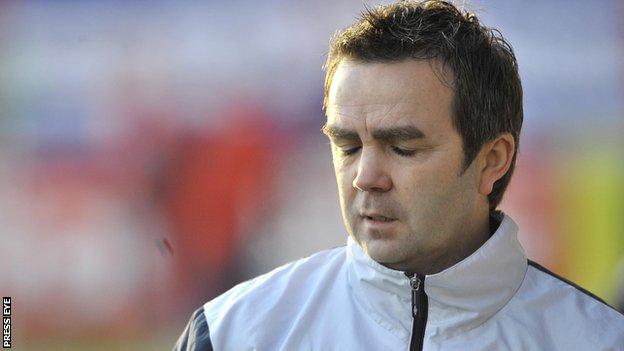 Newry City are not permitted to play any matches after the club was suspended by the Irish FA on Friday.
The Championship club's financial crisis led to it being wound up at a High Court hearing on Thursday.
The IFA has suspended City's membership of the governing body and all teams affiliated with the club can not play games while under suspension.
It is expected that the winding-up order will lead to Newry City FC Ltd now being liquidated.
A petition brought by former manager Gerry Flynn against the company which runs Newry was granted in a High Court hearing lasting only minutes.
Earlier this year Mr Flynn was awarded £25,000 in damages after claiming wrongful dismissal and breach of contract against the club.
When no money was paid out he instructed his lawyers to issue winding-up proceedings against Newry City FC Ltd.
Sources close to Mr Flynn stressed that his petition was an attempt to resolve the issue rather than seeking the club's closure.
No one representing Newry City was in court for Thursday's hearing.
Last month, the club's opening scheduled Championship One match was postponed because of the winding-up petition.
A week later, the club did start their campaign after offering assurances about their future to the Irish FA.
The IFA said: "Whilst the Board recognise that the control of the business, assets and property of Newry City FC Limited are now placed under the direction of the Official Receiver, the Association will correspond with the directors of Newry City FC Ltd to establish the intentions of the company to appeal the winding up order, which falls within the scope of the powers retained by the company directors."