Arsenal, Invincibles, Van Persie: Jens Lehmann on his former club
Last updated on .From the section Football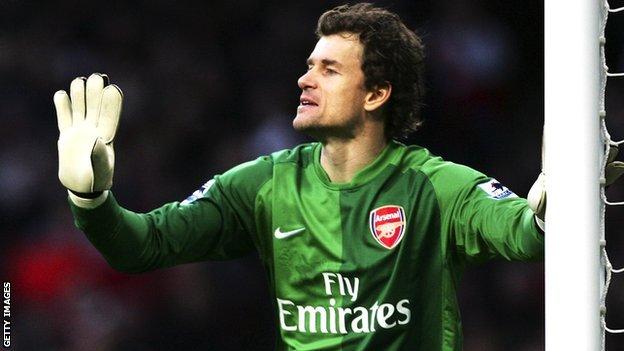 Goalkeeper Jens Lehmann made 148 appearances for Arsenal and played in every game of their historic unbeaten Premier League campaign of 2003-04.
No longer relying on Robin
"When you see Robin van Persie, a player who wants to leave for money and probably because he thinks that somewhere else it is easier to win, you have to let him go.
"He had only one year left on his contract and had just completed his first campaign without an injury in eight or nine years, an extraordinary season for Robin. Then Arsenal had to make a decision - do they keep him or do they let him go?
"The future will tell us, along with what will come into place next year with the introduction of Uefa's financial fair play rules. Then we will see how these rules actually come into play for clubs like Chelsea and Manchester City. It could turn out that clubs like Arsenal are all of a sudden far ahead of their rivals."
Building from the back
"You can already see the benefit of appointing Steve Bould and Neil Banfield as coaches, because prior to 15 September Arsenal had not conceded a goal. That was a great achievement.
"You can already see that there is some progress in that department. I hope that there will be a good balance between Arsene's offensive mindset and Bould and Banfield's secure tactics, which actually wins you trophies. I'm quite optimistic about the current season and hope of course that Arsenal will win something."
Becoming an Invincible
"When I played for Arsenal my biggest moment probably was the 2003-04 season, when we did not lose a game as we won the Premier League title. At the time we didn't realise how big it was and how good we were. That team should have won more trophies, because we were the best team by far.
"Early in the season we played Manchester United, and in the last minute they had a penalty. Ruud van Nistelrooy missed, hitting the crossbar. That was probably the defining moment when we knew we could go quite far, as luck was on our side. Winning the trophy without losing a game was the biggest thing I've ever achieved."
Playing alongside the greats
"When I was at Arsenal Thierry Henry was at his peak. There were some other great guys too - Dennis Bergkamp, Patrick Vieira, Sol Campbell and Ashley Cole. I could name the whole team, because everybody played his role and everybody respected each other. We had a fantastic team spirit.
"We once played Inter Milan and nearly got knocked out of the Champions League. We knew we had to get a result and all of a sudden this team really stood up. We beat them 5-1 in Milan, and so it showed us at the time how great we were as a team. The team spirit was vital to achieve such things."
Working under Wenger
"Arsenal boss Arsene Wenger is a coach who does not only inspire you on the pitch but off as well, because when you talk to him you always find it very exciting and you're always getting some great information. I think that is what makes a great coach.
"He made Arsenal. He bought and sold so many players and has a fantastic financial track record. The new stadium and everything built comes down to him and to his performance.
"But although I quite enjoyed working for him, there were times it was psychologically very, very demanding.
"I argued with him quite often, particularly when he dropped me.
"But there was always a professional relationship and a private one, and the private one is still very good right now.
"I'm doing my coaching licence at Arsenal, which is a big gesture, and I really appreciate that."