Roberto Mancini: Difficult to keep Mario Balotelli happy
Last updated on .From the section Football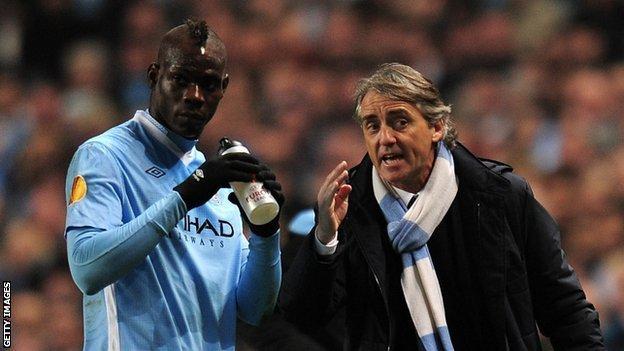 Roberto Mancini says it is "difficult" to keep striker Mario Balotelli happy at Manchester City if he continues to miss the club's biggest games.
"It is difficult to keep Mario happy if he isn't first choice," the City boss said. "He was upset, this is normal."
The Italian denied Balotelli's omission was due to an argument.
Mancini started Balotelli at Anfield last month, but he was withdrawn just after the hour mark after an ineffective performance.
Last season, he scored against Manchester United, Tottenham Hotspur and Chelsea, as well as excelling for Italy at Euro 2012 in the summer.
City face another top level opponent on Sunday when they host Arsenal, a team Balotelli was sent off against following bookings for late lunges on Alex Song and Bacary Sagna when the sides last met.
Prior to that fixture, Mancini said he does not "trust" Balotelli, but he hinted the attacker would now feature at the Etihad Stadium.
"I don't think any player who doesn't play in the Bernabeu is happy about it", Mancini said.
"But we have four top players up front. Usually we play with two and the other two are on the bench. However, we have others who can play as second striker like Yaya Toure, David Silva and Samir Nasri.
"Three strikers on the bench would be too much so it could be that sometimes a striker goes to the stand. But after Mario went in the stand in Madrid maybe he can play against Arsenal."
Balotelli stands a greater chance of playing thanks to the hamstring strain that is likely to rule midfielder Samir Nasri out against his former club, and because star striker Sergio Aguero has yet to start since recovering from a knee injury.
"My patience for him is endless," Mancini said, when it came to further discussion of Balotelli's smoking habit.
"I haven't told him to stop. I don't smoke, I don't like to smoke.
"If he wants to smoke that is his problem. It is his life.
"If he wants my opinion it is better that he finishes. But if he smokes 10 cigarettes a day and scores two goals in every game, it is better."