David Luiz tackle angers Stoke manager Tony Pulis
Last updated on .From the section Football264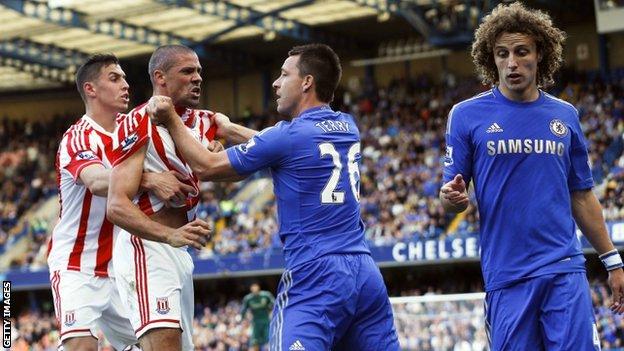 Stoke manager Tony Pulis expressed his frustration at the decision not to send off Chelsea defender David Luiz for a "dreadful" challenge on Jonathan Walters late in the defeat by Chelsea.
Referee Michael Oliver booked the Brazilian for the two-footed tackle, which made glancing contact with the Stoke player's shin in the 90th minute.
"It's a dreadful challenge," Pulis said. "You expect a referee of Premier League quality to deal with it.
"It is a very, very bad challenge."
Walters reacted furiously to the tackle, confronting Luiz near the touchline. However, after the match Chelsea manager Roberto Di Matteo moved to play the incident down.
"It is a strong tackle, a strong tackle," he said. "Fortunately it didn't catch him 100% but the referee made the decision and we accept that."
Pulis was also extremely critical of Chelsea over their attempts to win penalties using "simulation" during the game.
Defender Branislav Ivanovic was fortunate to escape a booking for a dive in the penalty area during the first half, while Oscar was shown the yellow card as he attempted to win a penalty after half-time.
"I just think we should highlight these situations more so that referees understand the people that do it," Pulis added.
"Simulation is a real bugbear for me, I think it puts enormous pressure on referees when you come to the bigger clubs and players are falling over. You will see Ivanovic's fall in the first half and the lad Oscar, who is a great player, doing it as well.
"It puts enormous pressure on Michael Oliver and he has done well in four or five incidents today to not give penalties. The players should be highlighted, they should be marked.
"There are one or two players who have got a reputation in the Premier League for falling over when they are not touched and quite rightly so.
"Forget what Europe is doing but as a country we should highlight it more and certainly crack down on it."
Di Matteo disagreed with Pulis over the incident involving Oscar, which saw the Brazilian go to ground after a challenge with Stoke defender Ryan Shawcross in the penalty area.
"Oscar's is a penalty," Di Matteo said. "I don't think he should have been booked at all. There was contact.
"Now if the referee doesn't think there was enough contact then fine, we accept it. But I don't think it was a dive at all, so I don't think he can complain too much."
Pulis felt the result was harsh on his side, who have not won at Stamford Bridge in the league since April 1974.
Walters hit the crossbar with a header while winger Michael Kightly also went close in the first half.
"We played the champions of England last week and did really well and we played the champions of Europe this week and gave them a good run for their money," Pulis added.
"We are disappointed that we have not been able to score. I think we at least deserved to score today and it could have been a very different result."
Chelsea snatched the points with an 85th-minute winner from Ashley Cole and Di Matteo felt it was the least that Chelsea deserved.
"It was one-way traffic today the whole game," he said. "They had a few chances and it was very difficult to break them down because they are so well organised.
"If you score an early goal that helps but if not you have to keep going, trying the spaces. Fortunately it came at the end."