Inverness boss Terry Butcher appeals for 'boring win'
Last updated on .From the section Football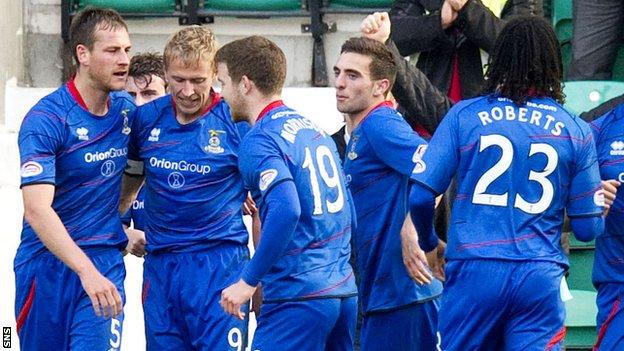 Manager Terry Butcher was delighted with the way Inverness hit back from 2-0 down to draw at Hibs but would prefer to see a stuffy first win of the term.
"It's never boring with us," Butcher joked. "We never do 0-0's or bad games, we do excitement, goals, sendings off, the lot.
"I'm desperate for a boring 1-0 win. That would be my Utopia.
"From a health point of view it's savage. It must be for the fans as well, we put them through the ringer."
Hibs were in prime position to go top of the Scottish Premier League after Eoin Doyle and David Wotherspoon goals gave the home side a comfortable advantage.
But Conor Pepper pulled one back for the visitors before the break and Richie Foran slammed in a late equaliser to ensure a share of the spoils.
"We know we can score, we've scored against everybody, we just keep conceding," added Butcher.
"There is no doubt Conor Pepper's goal gave us a real lift and belief that we could get something from the game.
"Up until then we had been second best. We were very poor.
"Even at 2-1 in the second half I was thinking it looked like Hibs might get that third goal to make it safe for them.
"But we always carry a threat. It's just frustrating when you come to Edinburgh and give teams two goals of a start - we did the same at Hearts - and only then start to play ourselves.
"From a mental point of view we just weren't strong enough and Hibs rubbished us in terms of possession and getting hold of the ball. They were very strong when we were weak.
"Hibs' goals came from our possession. If you don't retain the ball, you'll get punished."
Inverness are still searching for a first win of the season and Butcher wants to see his side improve their mental approach in the early stages.
"We need to have a better mind-set at the start of games and make sure we apply ourselves better," he explained.
"In the second half when the game opens up more we have more about us.
"We can't keep going through 45 minutes conceding goals because we won't come back every time."
Pepper impressed on his first SPL start, having also equalised against Hearts as a substitute.
"He's got great energy," enthused Butcher. "He's a great lad. It took us a year to get him - he had to go back to Ireland for his studies - and now he's learning quickly at our club.
"He's a bit like Forrest Gump. It's just as well the stadium is enclosed otherwise he'd been running along Princes Street!"