Liverpool & Manchester United make Hillsborough tribute

By Phil McNulty
BBC Sport chief football writer at Anfield
Last updated on .From the section Football
Liverpool and Manchester United paid tributes to Hillsborough victims before their Premier League game on Sunday.
It was the first match at Anfield since the findings of an independent panel investigating the disaster at the 1989 FA Cup semi-final between Liverpool and Nottingham Forest were published.
The panel cleared Liverpool's supporters of blame.
And they were remembered with flowers, balloons and mosaics spelling out "The Truth" and "Justice" before the game.
The occasion was marred slightly after the final whistle when a couple of home supporters ran across from the main stand to the visiting contingent - held behind on police orders - and started making aeroplane signals in a clear reference to the Munich air disaster in 1958 when eight United players were among 21 people who lost their lives.
The provocation was met with chants of "Always the victims" and "Murderers" from the travelling fans in relation to the Hillsborough and Heysel stadium disasters that Liverpool were involved with in the 1980s.
"What was done at the end I cannot comment on as I didn't hear or see anything," Liverpool manager Brendan Rodgers said.
"There is an intense rivalry here and you don't want that to end because that is all a part of what makes this the biggest game in British football.
"But it is on the field where competition should be and everything else, songs from Liverpool or Manchester supporters, any of us that have any human decency don't like to hear that."
Supporters gathered hours before the lunchtime kick-off to lay floral tributes as Anfield's Eternal Flame Hillsborough memorial.
And before kick-off Manchester United legend Sir Bobby Charlton presented flowers to former Liverpool striker Ian Rush as opposing captains Steven Gerrard and Ryan Giggs released 96 red balloons in memory of those who died.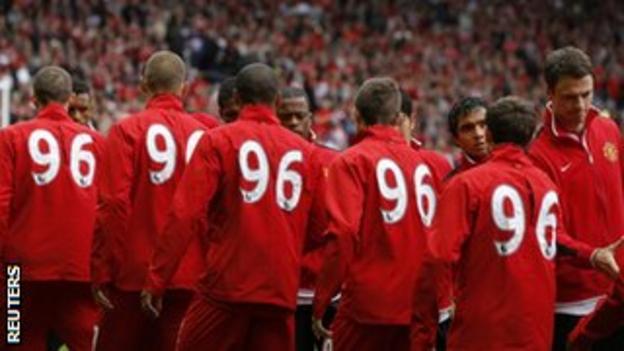 The Kop was emblazoned with a mosaic reading "The Truth" while a similar scene was enacted with the word "Justice" along the length of Anfield's lower Centenary Stands.
The tributes were met with impeccable behaviour from both Liverpool and United fans, with the visiting supporters applauding warmly on several occasions.
United's behaviour on and off the pitch drew praise from Liverpool managing director Ian Ayre, who said: "First and foremost, a great thanks to Manchester United. Their support today was important and we are grateful.
"Their fans were excellent and our fans were excellent, which puts it into perspective that it was about the day."
Both teams emerged with the number "96" on the back of their tracksuit tops and Liverpool striker Luis Suarez and Manchester United defender Patrice Evra shook hands warmly.
Suarez was suspended for eight games last season after being found guilty of racially abusing Evra and then refused to shake his hand before the Premier League game at Old Trafford - but on this occasion the pair happily observed the pre-match ritual.