Don Cowie denies Cardiff complacency after Palace defeat
Last updated on .From the section Football9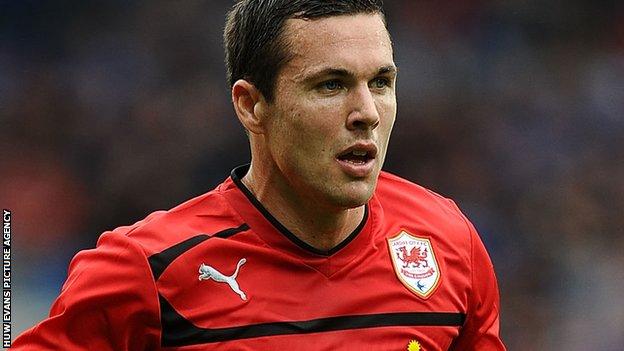 Midfielder Don Cowie says Cardiff have to learn from the mistakes they made during the defeat at Crystal Palace.
Cardiff surrendered a 2-0 lead as Palace came back to secure a dramatic 3-2 win.
Cowie denied Cardiff had become complacent following three consecutive wins.
"To be 2-0 up and come away with nothing is very disappointing. We've got to learn from that very quickly," he said.
"There's no complacency here. All we've done is won three games on the trot - that's nothing in this division.
"It's still early days in the season, but we've got to learn from that and make sure we win them games if we want to get out of this league.
"Once you get to maybe 25/30 games in the season then start looking where we are. We take the medicine and move on."
The Selhurst Park loss was Cardiff's second defeat of the season following a 4-2 reverse at Bristol City.
Cardiff's response following defeat at Ashton Gate was to embark on a three-match winning run, which ended at Palace.
Cowie says Cardiff can make amends for their latest defeat when they host Blackpool in their next Championship game.
"Obviously we're disappointed to lose the game but we've got a massive game next Saturday against Blackpool," Cowie said.
"We've got to learn from that. We'll have a meeting about it on Tuesday, look at where things went wrong and make sure we're ready for that game.
"We had a disappointing result against Bristol City and we managed to put that behind us with three wins on the trot.
"Hopefully we can do that again."
Cowie was a regular for Cardiff last season, but has been in and out of the team this term.
The ex-Watford player says Cardiff have strength in depth this season and that competition among the players for a starting spot is fierce.
"The manager looked at things that were maybe a negative last year, and that was definitely the strength of our squad," Cowie said.
"If you look this year he's got loads of options.
You look at the bench - the people that's on that and people that are not even on the bench.
"It's up to people when they get their opportunity to take it."