Martin Ling calls for Torquay passing to improve
Last updated on .From the section Football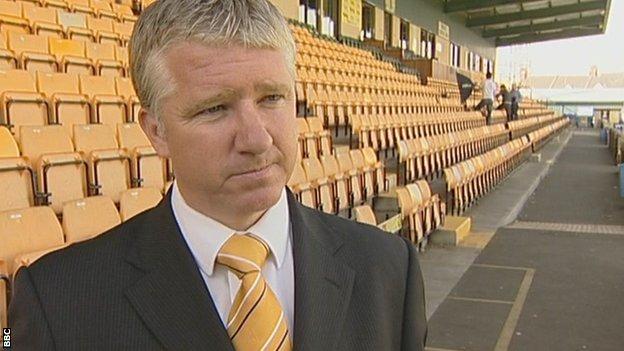 Torquay United manager Martin Ling says his side's poor possession was to blame for the late equaliser they conceded in their 1-1 draw with Burton Albion.
Calvin Zola scored in the 89th minute in a match where Burton had numerous chances to equalise.
"We brought it on ourselves in terms of ball retention, it's something we've talked about an awful lot," Ling told BBC Radio Devon.
"Our standards and expectations have gone up but we've not met them."
He added: "I can't knock any of the players for work-rate or effort, but I can knock all of them for not being good enough on the ball."
Torquay created few chances and Burton hit the bar and the post as well as miss a series of excellent chances before Zola struck.
"Bravery is a word that people use in football," Ling said.
"There's bravery of putting yourself in the line of fire when the shots are coming in, and there's bravery in getting on the ball and making us tick.
"I can't think of any movements, apart from the goal, where we asked any questions of them apart from on the counter-attack.
"We looked like the away team trying to break on teams and I think we've got to have a different emphasis on the game."