Rangers punishment 'must fit crime' - former chairman
Last updated on .From the section Football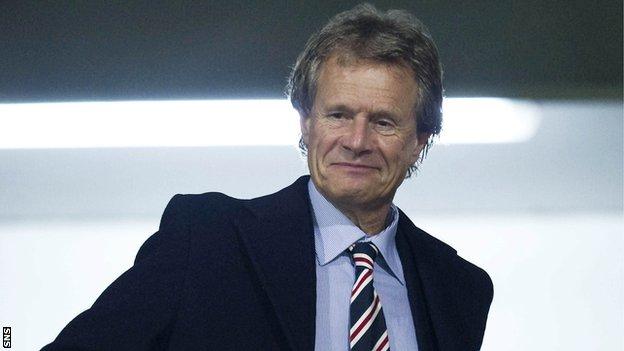 Former chairman Alastair Johnston believes Rangers are being vilified for what he calls a "breach of procedure" over past player payments.
A tribunal set-up by the Scottish Premier League is investigating claims of alleged dual contracts at Ibrox.
Two weeks' ago, Johnston described the probe as "a kangaroo court".
And Johnston insists the Glasgow club's prior use of employee benefit trusts cannot be considered "cheating or financial doping".
The independent tribunal, headed by Lord Nimmo Smith, is investigating the period 2000-2011 and will convene in November.
BBC Scotland has seen evidence, which was submitted to the courts, suggesting that 53 Rangers players and staff had side-letters giving undertakings to fund their sub-trusts with cash.
Scottish FA and SPL rules state that all payments made to players in respect of their earnings from football must be declared by their club.
In a lengthy statement, Johnston repeated many of his earlier misgivings about the investigation but added that he was "not concerned about the impartiality of the learned gentlemen who will adjudicate on this matter".
Rather, Johnston is worried by the "directives that have been provided to them by the SPL which in itself is constituted by competitors of the club who have a vested interest in the outcome of the proceedings".
If found guilty of rule-breaking, one possible sanction is the stripping of league titles won during the period under investigation.
"Justice must be served, but the punishment must fit the crime," implored Johnston.
"Use of EBT schemes were broadly adopted by a variety of businesses during the era prior to them being specifically outlawed by designated legislation introduced only a couple of years ago.
"Also, as has been widely reported, Rangers made absolutely no attempt to disguise or deny their adoption."
Johnston also asserts that the use of EBTs was "openly discussed" with those running rival SPL clubs.
On this, he adds: "I suspect that the commission will not pursue this avenue of investigation, but it would be interesting whether or not 'selective amnesia' would be exhibited by those executives/directors called to testify under oath about their ongoing familiarity with the Rangers scheme.
"It is ironic to reflect on the fact that the longer they maintained strategic silence on these conversations, the more extensive the number of titles that could be stripped if and when the opportunity arose subsequently to neutralise the successes that were earned by Rangers on the pitch."
The EBT scheme run by former Rangers owner Sir David Murray is the subject of a separate tax investigation by HMRC, which is due to release its conclusions next month.
Meanwhile, the SFA is expected to issue a statement shortly regarding Rangers' alleged use of dual contracts.