Swansea defence misses Steven Caulker, says Phil Neville
Last updated on .From the section Football4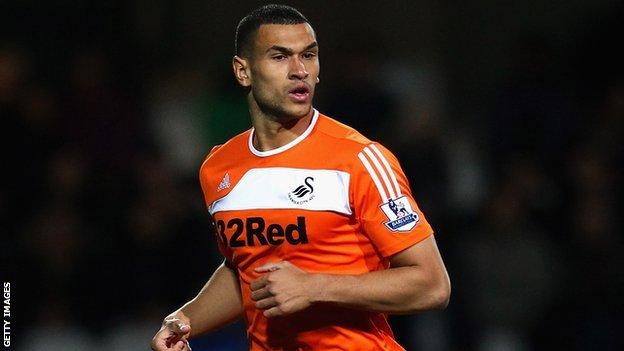 Swansea City are missing Steven Caulker more than Joe Allen and Scott Sinclair according to Everton veteran Phil Neville.
The former England defender says Caulker's absence has hit the Swans' capabilities at the back.
Everton won 3-0 at the Liberty Stadium on Saturday.
"I know people talk about Joe Allen - but I think Caulker was a massive rock at the back for Swansea last year," said Neville.
Caulker spent the 2011-12 season on loan at Swansea, who surprised many in the game by comfortably surviving under Brendan Rodgers in the Premier League.
Everton were among the teams to win at the Liberty Stadium, a 2-0 triumph in March and they went one better at the weekend against the team managed by Liverpool boss Rodgers' successor Michael Laudrup.
In the meantime the Swans lost Allen to Liverpool, Sinclair to Manchester City and Caulker returned from his loan spell to Tottenham Hotspur.
Neville, who has made 277 Everton appearances since joining them in 2005 following 299 games for Manchester United, coached Caulker while involved with England Under-21 in March 2012.
"They've lost a couple of really good players - [Scott] Sinclair and Joe Allen," said 35-year-old Neville.
"Caulker - I know people talk about Joe Allen - but I think Caulker was a massive rock at the back for Swansea last year.
"I've had the pleasure of working with him for a short space of time with the England Under-21 team.
"He really impressed me - [an] out and out defender.
"He was technically good on the ball, but he did like to defend.
"And I think out of all the players that Swansea have lost this season, maybe Caulker was the one that they probably miss more than anything because in the Premiership forwards are getting quicker, better technically and goal-scoring this season has been frightening.
"And I think if you keep clean sheets you're going to win most games and at the moment Swansea are probably finding that difficult."
The Swans' Premier League campaign began with a stunning 5-0 win at QPR followed by a 3-0 victory against West Ham United.
A 2-2 draw against Sunderland followed, then a 2-0 setback by Aston Villa before Everton triumphed at Swansea.
Neville says Everton's more physical approach paid dividends against the Swans.
He added: "I wished we played down at Swansea every week. Our performances there have been some of the best that we've produced.
"Last season we went there and it was at the time when Brendan Rodgers' side, you know, they were making 500-600 passes a game and they were totally dominating.
"And we went down there and we gambled, in a way… the tactics were just to flood the Swansea half of the field and just stopped them playing out of the back and to try and win the ball back as early as we possibly could.
"And I think that had a little bit of a mental thing in Saturdays' game because I think they were a little bit wary of us and we carried off where we left off last season.
"We did the same last season and we're a physical team and Swansea are a technical team.
"They probably don't have the physicality that we've got."