Luis Suarez victim of reputation - Steven Gerrard & Glen Johnson
Last updated on .From the section Football1007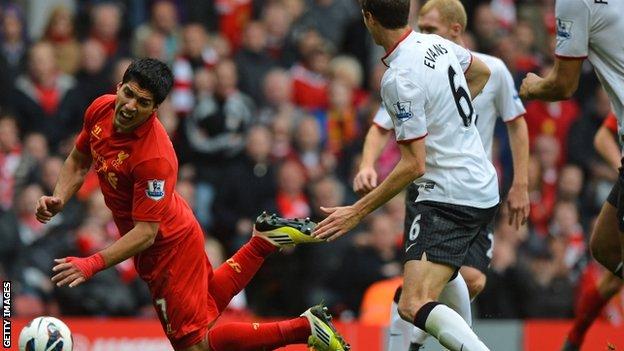 Liverpool's Steven Gerrard and Glen Johnson believe Luis Suarez is a victim of his own reputation and is not being treated fairly by referees.
"It's down to referees to not judge him. I think even when Luis does get blatant penalties, now he doesn't get them," said captain Gerrard.
Johnson added: "Referees have to forget about who they are looking at and not let the past affect their decision."
The striker, who has not won a penalty for Liverpool since the 2-1 defeat by Arsenal in March, gained a reputation by some for play acting last season, with Wigan manager Roberto Martinez describing the 25-year-old as an "artist at getting free-kicks".
The Uruguay international was booked for diving against Sunderland 10 days ago and has already picked up three bookings this season, causing manager Brendan Rodgers to warn the player to be careful.
England captain Gerrard believes Suarez should have been awarded a penalty against United after colliding with Johnny Evans, adding: "If it's not a penalty, don't give him one but if it's clear give it."
England right-back Johnson conceded the match-winning spot-kick at Anfield on Sunday after Antonio Valencia went down in the area and accused the United winger of cheating.
"Reputations go in front of people at times and because Valencia is not a known diver that is why he got the decision," said the defender.
"I almost guarantee if it was exactly the same situation and it was Luis and not Valencia then it wouldn't be a penalty. It is cheating at the end of the day, that's what people call it."