Rangers: Ally McCoist questions merits of contracts probe
Last updated on .From the section Football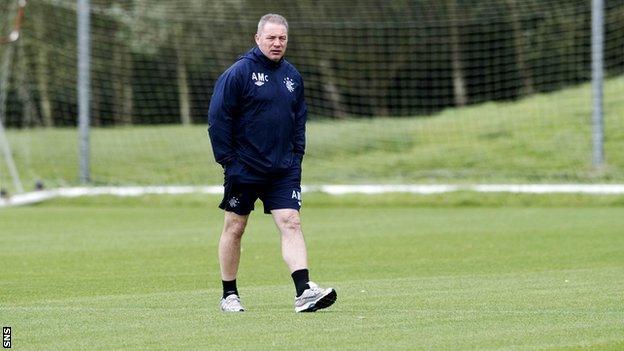 Ally McCoist believes opponents beaten to trophies by Rangers are "not interested" in the outcome of ongoing probes into the validity of such wins.
Rangers' alleged use of dual contracts in the previous decade will be assessed by an indpendent commission, appointed by the Scottish Premier League.
And Rangers could be stripped of titles won during the period in question.
"I'll fight till the end of the day, but I am getting dreadfully weary of the sitation," said Ibrox boss McCoist.
"It's the only thing that hasn't been dealt with and finalised and all I've asked for is an opportunity for the club to move forward.
"I just want it totally out of the way so we can officially move totally forward, realise where we are and get our great club back to where it belongs.
"I think you can even look at the opposition and listen to the opposition, whether it's whoever Rangers played in cup finals and opposition the boys played against in the leagues - the players and the opposition are not interested."
And, asked about the prospect of being stripped of accolades, McCoist said in jest: "For my 50th birthday, I got all my medals in a big trophy and a plaque.
"If anybody wants to come and take them, they're more than welcome, but they'll never take the medals away from the players who earned them thoroughly."
Meanwhile, McCoist repeated his view that Wednesday's visitors in the Scottish Communities League Cup, Motherwell, are favourites to progress.
Three divisions separate the two sides after McCoist's club was relaunched following financial problems and placed in Scotland's bottom tier.
"It's probably the first time it's ever happened in the club's history," said McCoist of Rangers' status as underdogs against Stuart McCall's side.
"It's not a bad thing, it's a learning curve.
"Stuart and I will probably disagree, but I would have to say Motherwell, being top of the SPL and the in-form side in the country at the moment, would have to be favourites.
"Not for that reason alone. We are, I say without fear of contradiction, in a transitional period.
"We're a completely new team. That aside, favourites can get beaten and I believe we can beat Motherwell.
"It won't be the end of the world if we don't win the tie, but I firmly, firmly believe we can win the tie."