Sunderland boss Martin O'Neill angry at Lee Cattermole's red card
Last updated on .From the section Football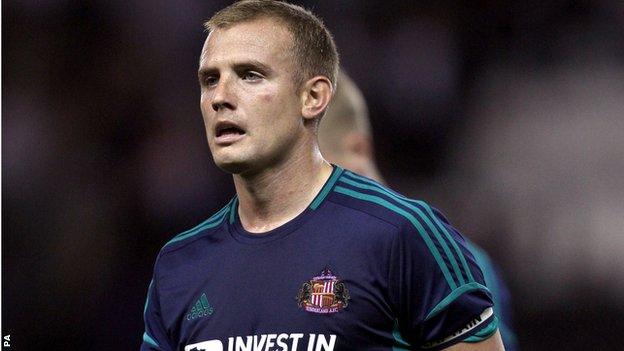 Sunderland manager Martin O'Neill has criticised captain Lee Cattermole for getting sent off in their 2-0 Capital One Cup win at MK Dons.
Cattermole collected the fifth red card of his Sunderland career for a reckless first-half challenge on Adam Chicksen.
Craig Gardner and James McClean scored to take O'Neill's side through, but the manager was annoyed with his captain.
"From the minute you start lunging in you are giving the referee no option," O'Neill said.
"It looked from the sideline that the referee had no option.
"You can't do it, we talked about discipline before the game and there we are, down to 10 men, it is a hard enough battle here and he didn't help himself and he didn't help his team.
"He started the season off brightly for us and he's a great leader - but he has to have discipline himself.
"There is no point asking for discipline from the team when you don't show it yourself."
Gardner's tremendous 25-yard free-kick and an individual effort from McClean secured a relatively safe passage into the next round for O'Neill.
He added: "I don't want to go overboard about it but it is good to win.
"To win tonight was great, considering the circumstances of playing most of the game with 10 men."
Adam Johnson made his comeback from a thigh injury, coming on with six minutes to go for his first appearance since 1 September.
O'Neill added: "It was one of those where I wanted to try and give him just a feeling for things again.
"In an ideal world, it would have been great if he had a little longer."