Confidence is high as Afcon 2013 tickets go on sale
Last updated on .From the section Football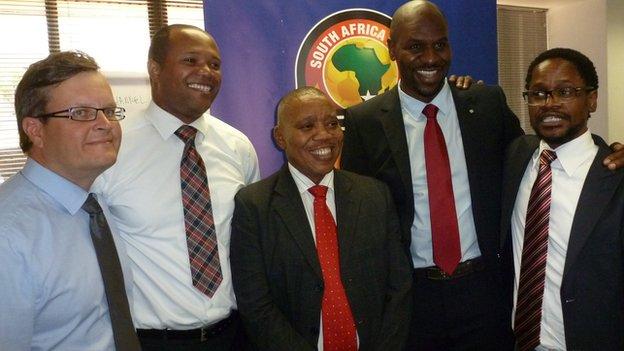 On the day that tickets went on sale, organisers of the 2013 Africa Cup of Nations in South Africa have expressed their confidence that fans will flock to the football festival.
The finalists will not be known until the middle of next month, but the organising committee is seeking to get a head start for a tournament which has been poorly attended in recent times.
Next year's tournament will run from 19 January to 10 February, with matches staged in Johannesburg, Port Elizabeth, Rustenburg, Nelspruit and Durban.
Mvuzo Mbebe, the chief executive of the LOC, suggests they will benefit from the country having hosted the World Cup in 2010.
He said: "Most Africans I have interacted with have told me that the World Cup was unaffordable.
"They believe this is their time to come and have the same experience and vibe that they would have got from the World Cup."
At the moment, fans do not know which teams have qualified. The draw for the Cup of Nations will take place in Durban on 24 October, after which, it will be known when and where the big nations will be playing.
The decision to launch the ticket sales ahead of the draw is seen as a clear attempt to try and boost sales and make sure this Cup of Nations does not suffer the same fate as others.
Critics have questioned the ticketing policy of organising committees at previous Afcon, with stadiums well short of capacity for matches not involving the host nation.
Mbebe said: "We are comfortable. We have done everything possible on our part to try and get people out there to buy tickets.
"We are also confident because we have quite a huge diaspora. South Africa is very cosmopolitan."
Organisers, meanwhile, are confident that additional funds pledged by the government will be forthcoming.
The boost to the 2013 budget has not yet been signed off because it must go through parliament.
"We've interacted with all the senior people in government," Mbebe said.
"It's not a question that the commitment is not there. They are well aware of our plans. This government is fully behind this tournament."