Jersey boss Craig Culkin says 'work in progress' for more games
By Brent Pilnick
BBC South West Sport
Last updated on .From the section Football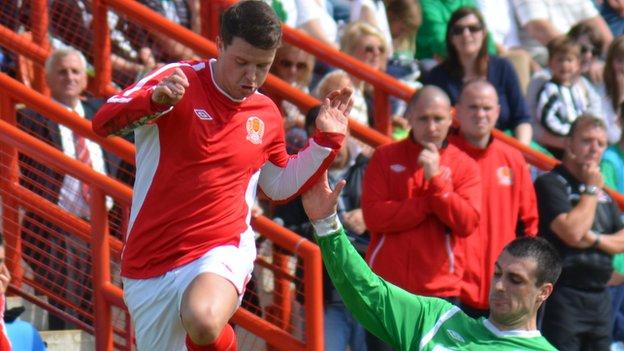 Jersey's football manager Craig Culkin says his plan for more games for the island side is 'a work in progress'.
"It's a work in progress, we knew it was going to be a challenge," he said.
"I think the most important thing is that we've got the boys in training every Wednesday in preparation for the Republic of Ireland game."
The island's top players will continue to train weekly in the build up to the tournament but have no other fixtures planned.
Despite the lack of games Culkin says he is happy with the progress being made under new JFA chief executive David Brookland and president Phil Austin.
"It's not the end of the world that we've not got those fixtures," Culkin told BBC South West Sport.
"We can put on select games where we can have a look at other players outside the squad.
"I'm really pleased with the small steps that have been taken since David Brookland has come in and Phil Austin as well.
"I have seen big improvements since David Brookland's taken over with Phil Austin coming in.
"There's certainly a closer working connection between the executive and the management now and I'm confident that we're pushing in the right direction."
And Culkin says that he hopes that more fixtures can be sorted out for next season once the new leadership at the JFA have had a chance to establish themselves.
"I think the biggest problem we've had is just at this stage of the season, once the season starts it's difficult to get teams across.
"Certainly for next season we'll be looking to organise that earlier in the closed season for the season thereafter."