Rafael to become Man Utd stalwart - Rio Ferdinand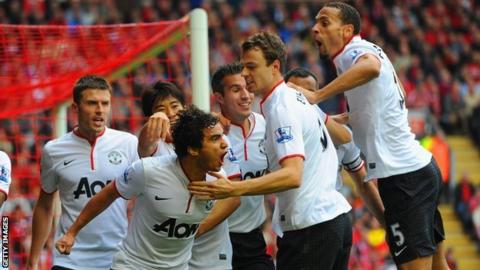 Rio Ferdinand has tipped team-mate Rafael Da Silva to become a "top" defender for Manchester United.
The Brazilian has had a strong start to the season, scoring the equaliser in United's 2-1 win at Liverpool on Sunday.
He emerged as the first-choice right-back after Chris Smalling and Phil Jones picked up long-term injuries.
Ferdinand, however, says the 22-year-old has an "emotional" edge to overcome before establishing himself.
"Rafa is his own worst critic," Ferdinand said.
"He is emotional and sometimes when he makes a mistake he has to make up for it immediately. That comes out in his game at times.
"When I was his age I was a lot like that. I used to be more interested in what was happening in the attacking part of the game and further up the pitch than defensive play.
"With experience that will disappear and you will see a top right-back."
Rafael moved to Old Trafford from Fluminense in 2008, along with twin brother Fabio, who is currently on loan at QPR.
He signed a new four-year contract in July and has clocked up 94 appearances for the club, including four Premier League starts so far this season.