Wigan boss Roberto Martinez gets reduced fine over 'bias' comments
Last updated on .From the section Football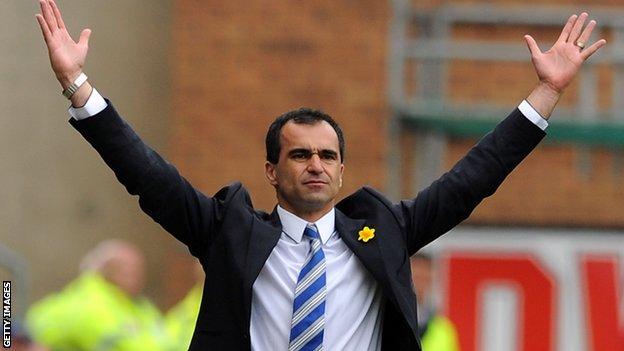 Wigan manager Roberto Martinez has had a Football Association fine reduced to £8,000 despite losing his appeal against a misconduct charge.
Martinez was initially fined £10,000 after accusing Michael Oliver of bias.
The Latics boss claimed referee Oliver "had not measured both teams the same way" in their match against Manchester United on 15 September.
His fine was cut after an appeal hearing viewed footage of his post-match interviews.
Martinez had admitted the misconduct charge before his initial punishment, but then appealed against the original charge and the scale of the fine.
He argued that his comments were not directly critical of Oliver, and produced videos and transcripts of his post-match interviews and press conference, which had not been available at the original hearing.
His appeal was dismissed by a three-man committee, but it accepted that Martinez had not set out to to suggest that Oliver was biased, and had also praised the referee elsewhere in his post-match comments.
The FA said: "Mr Martinez was found to be in breach of FA Rule E3. The Appeal Board did, however, impose a fine of £8,000, reduced from £10,000, having regard to the new evidence presented to the Appeal Board which was not before the original regulatory commission."
Speaking after Wigan's 4-0 defeat at Manchester United last month, Martinez claimed Danny Welbeck had dived to win a penalty. He also said Welbeck and Paul Scholes should have been sent off for tackles.
He said: "In many ways, you feel as though you are fighting against a mountain.
"There were tackles flying around that, if they had been the other way round, there would have been a couple of red cards.
"Michael Oliver is a very capable referee, who has been outstanding in many big games, but it was clear from the opening minutes that he was not going to measure both teams the same way."
In setting out its reasons for upholding the charge but reducing the fine, the FA Appeal Board said: "The Board were prepared to accept that Mr Martinez had in fact intended, and did, praise the referee in the hope of escaping sensationalist headlines that might otherwise have been sought by journalists.
"However, Mr Martinez failed to make himself sufficiently clear in order to escape obvious inference of bias that were evident as left in his words."